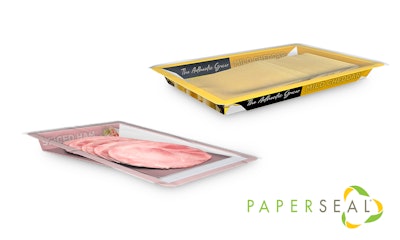 Both solutions, manufactured by Graphic Packaging, a sustainable paper-based packaging solutions manufacturer, have been designed to withstand the rigors of today's supply chain with excellent seal integrity and shelf life equivalent to traditional plastic trays. As with the existing PaperSeal trays, the top film and liner can be separated from the paperboard for ease of post-use recycling.
The new PaperSeal Slice and Wedge solutions combine the safety, flexibility, efficiency and enhanced branding opportunities that partners have come to expect of the PaperSeal Tray range, while opening up the solution's capabilities to new product categories.
Ricardo De Genova, Graphic Packaging's SVP, global innovation and new business, commented: "Compared to traditional plastic trays, PaperSeal Slice typically reduces plastic by 75 percent and PaperSeal Wedge by 80 percent. The innovative new designs also use lighter weight paperboard to deliver reduced pack weights that can support our customers' packaging sustainability goals. Both are available as formed or flat trays."
Companies in this article
Videos from Graphic Packaging Intl.