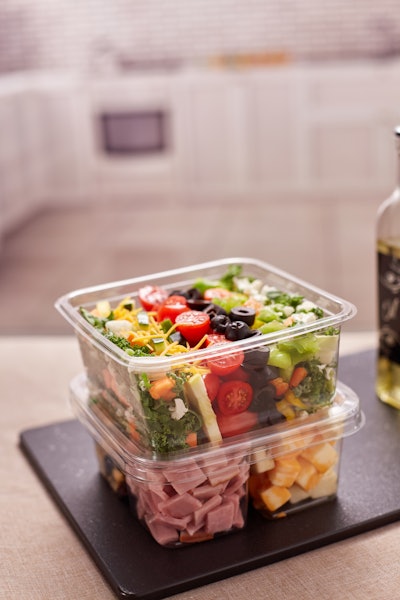 Recycleware containers are clear, durable, and leak-resistant. Supermarkets, convenience stores, and commercial foodservice venues such as educational institutions and sports arenas can use these containers to showcase their foods to consumers while lowering their environmental impact. Recycleware containers safely serve food in packaging ideal for takeout, merchandising and grab-and-go consumption.
Recycleware Containers are made in the USA and are recyclable in the communities that accept these products. With the introduction of this new brand, Fabri-Kal is reinforcing its commitment to furthering a circular economy by giving recycled plastics a second useful life and keeping them out of the environment.
"Recycleware allows us to do more while consuming less raw materials. Our foodservice packaging made from post-consumer recycled PET bottles enables operators to show their commitment to the environment while displaying products in Recycleware Containers," said Mike Roeder, president and COO, Fabri-Kal. "By using Recycleware Containers, your customers will understand that you are as committed to the future as they are."
Fabri-Kal is a member of How2Recycle, a standardized labeling system that clearly communicates recycling instructions to the public. The product packaging for all Recycleware Containers will display How2Recycle labels. The How2Recycle labels will instruct operators and consumers how to properly dispose of Recycleware containers and its packaging.

Companies in this article