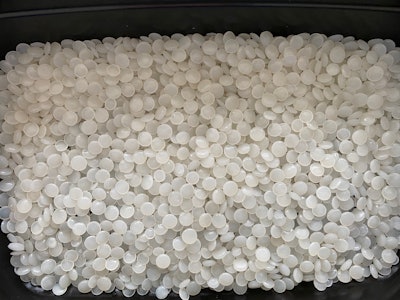 FW-200 masterbatches, available with a wide range of resin carriers (PE, PP, PS, Biopolymers), are effective from very low to very high temperatures for up to a couple of years.
With copper as the active ingredient the masterbatches carry and disperse the copper in a very consistent matrix that results in log reductions between 5 and 6 depending on certain variables.
Recently introduced, the patented copper active ingredient/carrier technology provides manufacturers, brand owners, and end users an economic alternative to existing microbial control options. The patented carrier technology also significantly improves the dispersion of the microbial controlling additive which is different from anything currently on the market.
MultiPlast Systems' FW-200 masterbatches and liquid have been proven to be effective with both gram-positive and gram-negative bacteria (confirmed by independent laboratory tests). In addition, scientific studies have shown that copper has been proven to affect a range of viruses, including COVID-19, in certain applications. They can be customized for a wide range of food and non-food applications including film, thermo form, injection or blow molding, and extrusion coatings. The FW-200 active ingredient can also be supplied as a concentrated liquid for other applications.

Companies in this article