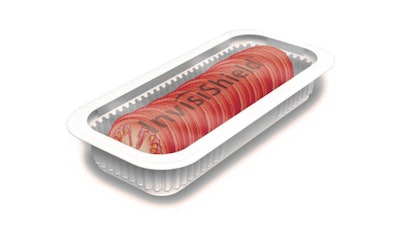 This content was written and submitted by the supplier. It has only been modified to comply with this publication's space and style.
Easy to incorporate into existing or new produce packaging lines, the technology mitigates pathogen growth without negatively impacting the product.
InvisiShield leverages 3-Phase Activ-Polymer technology, patented by Aptar CSP Technologies, a division of AptarGroup with more than 20 years of expertise in material science. The 3-Phase Activ-Polymer™ technology is currently used by leading global brands with a wide range of products to extend shelf life, maintain freshness, and improve efficacy in industries such as pharmaceuticals, medical devices, and food safety.
The InvisiShield solution is activated within sealed packages to safely and effectively release a specially formulated amount of an anti-pathogenic agent into the fresh cut produce's packaging environment that is undetectable to the consumer and dissipates from the package within 24-48 hours of activation. This mechanism significantly reduces pathogens that may have been introduced during the supply chain without coming into contact with the product itself. The result is a final intervention step that also reduces cross-contamination within the sealed package.
"We are extremely proud of our technology and the tremendous amount of work that has led to this launch. We have material science expertise that we are applying to food safety solutions at a critical time when consumers are demanding better and healthier food packaging outcomes," stated John Belfance, President, Aptar CSP Technologies.
InvisiShield technology can be easily integrated into an existing production line with complete on-site technical support. The technology is available in different packaging configurations insuring flexibility and adaptability to a wide range of packaging and delivery systems.
"I am very excited about the potential this technology has to change the way the food industry thinks about food safety," said Angela Morgan, Ph.D., Director of Business Development and Food Safety Solutions for Aptar Food + Beverage – Food Protection. "We are taking a small, but game changing step in reshaping the food safety paradigm."

Companies in this article