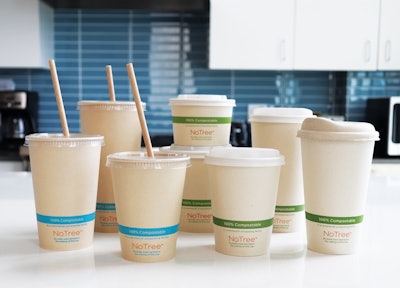 The NoTree™ line includes 12, 16, and 22 oz cup sizes that conform to ASTM D6400 Standard for compostability, are BPI Certified, and meet FDA guidelines for food use.
Additional features include:
• Available in natural tan color, a continued step by World Centric to remove bleaching from the manufacturing process.
• Will compost in 3-6 months in a commercial composting system
• Bio-based lining inside and out that prevents leaking and condensation accumulation
• Fits seamlessly with World Centric plastic lids created from Ingeo™ certified compostable plastic, derived from plants grown in the U.S.
World Centric is committed to finding alternatives to traditional paper cups made from trees. Bamboo is a fast-growing, renewable alternative to traditional tree fiber. The use of paper made from bamboo fibers helps protect our fast dwindling forests, and supports wildlife and indigenous cultures whose lives are dependent on them.
"We're proud to be a market leader in creating innovative, sustainable products for the food service industry, while reducing our use of paper made from trees" said Mark Stephany, World Centric's Senior Vice President of Sales. "Our new cold cup collection gives restaurants and other food service providers an alternative that is better for the environment and meets consumer demand for more sustainable practices."
Companies in this article