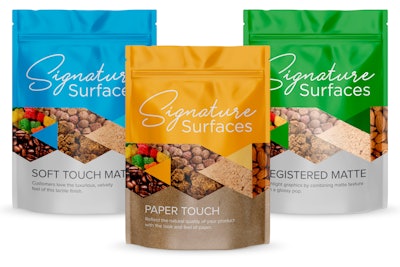 The Signature Surfaces product line includes:
• Paper Touch – a groundbreaking coating that provides the feel of paper with the protection of film. It is designed to reinforce a brand's natural and organic positioning in markets such as snack and pet foods.
• Soft Touch – provides a soft, velvety feel perfect for premium and luxury product positioning.
• Registered Matte – provides a matte-photo-like texture to all, or part, of a package's surface
Signature Surfaces can be combined with glossy graphics or a clear window that creates an eye-popping display sure to attract consumer attention. These coatings have excellent heat resistance, scuff resistance and chemical resistance.
Signature Surfaces are available in PRO-POUCH® Stand Up Pouches or Quad-Flex® quad seal pouches.
Companies in this article