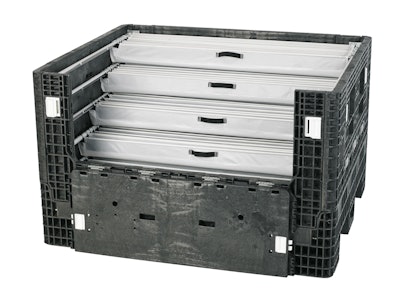 "Packaging needs are rapidly evolving in the automotive industry due to faster vehicle life cycles and the growing amount of part SKUs," said Sean Momsen, market manager at Orbis Corp. "To meet our customers' needs, Orbis designed a versatile, hassle-free sliding dunnage system for the automotive supply chain to accommodate quick turns, diverse parts and multiple uses."
The system is composed of a frame, multiple rails and hanging fabric bags. The frame fits within a standard Orbis BulkPak® container and is configured with the rails and fabric bags designed for rugged use. The rails include multiple assembly holes that allow height adjustment and fabric bag reconfiguration, as needed. The frames also are removable and can easily be transferred from one standard BulkPak to another.
"The new AdjustaPak is not bolted to the packaging, so if the host container changes at any point along the supply chain, the sliding dunnage system can easily be moved to a different container, reducing replacement needs and costs," Momsen said.
In addition to the modular design, the fabric bags have a vertical orientation so there are no layers to remove at the assembly line, and the unique easy slide technology prevents rust buildup to ensure sliding performance doesn't degrade over time. Fabric bags can be purchased for additional layers, and the AdjustaPak is available in a variety of sizes, ranging from 48 in. x 45 in. to 78 in. x 48 in..
Companies in this article