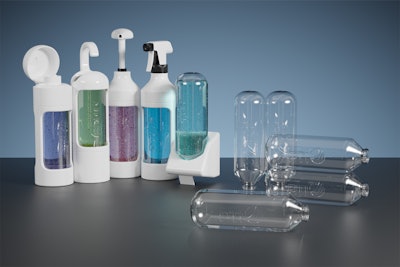 The first-of-its-kind system is ideal for personal care, household chemicals, and a wide range of other products.
Up to 75% lighter weight than traditional personal care PET bottles, the less than 10 g, PET refill is designed to be inserted into an attractive, rigid, reusable dispenser. Several dispenser types have been engineered, each with specific features to address brand preferences. The bottles can be made from virgin PET or up to 100% recycled PET (rPET).
The objective was to create a bottle/dispensing system that would support growing e-commerce product demands, survive the distribution channel with limited secondary packaging, and reduce dependence on raw materials.
Opposing flat side panels provide sidewall strength and facilitate stacking prior to shrink wrapping into optional double packs. Bottles can also be sealed with a traditional threaded closure or accommodate a foil seal.
"Consumers have never been more vocal about reducing plastic packaging consumption. Along with this has come the significant shift in buying habits, moving away from retail stores toward ecommerce. Different times, call for different packaging solutions and that's what this innovation represents," explains Thierry Fabozzi, president, PTI.
Unlike traditional PET bottles which are designed for the retail shelf, this system has been specifically designed for e-commerce distribution. That means structural attributes that are mandatory in the retail space, but unnecessary for e-commerce, have been removed.
Dromo™ bottles have also passed burst tests of up to 173 psi and drop tests (both base and sides) of 6 feet to ensure that they will be able to handle the rigors of ecommerce distribution.
Companies in this article