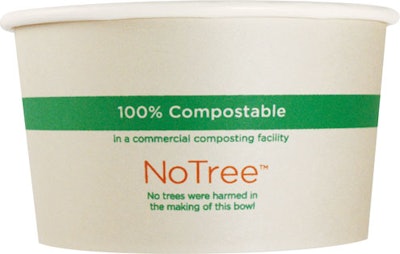 "We are thrilled to unveil World Centric's new NoTree hot cup and bowl collection and further help our trade customers make the shift to compostable products," said Mark Stephany, World Centric Senior Vice President of Sales. "The collection is groundbreaking for the foodservice industry and continues our commitment to creating great products that contribute to reducing environmental footprint of single use disposables and help us fund our impact programs."
The use of sugarcane bagasse to make the paper that forms the new cups and bowls helps protect dwindling forests, as well as supports wildlife and indigenous cultures whose lives are dependent on forests. In addition, the NoTree hot cup and bowl collection is available only in a natural tan color, a significant step World Centric is making to remove bleaching from the process, which can potentially harm the environment.
The new NoTree line expands World Centric's existing lineup of plates, utensils and other plant-based, certified compostable foodservice ware nationwide and in Canada.
In addition to compostability, sales of the NoTree product line will support World Centric's ongoing giving of at least 25% of net profits to grassroots community projects around the world that have a significant positive impact in providing basic needs for their communities and the environment. In 2017, World Centric reached a milestone of giving over $1,240,000 in cash and product donations that provide assistance and help create systems change at the root of many social and environmental issues.
Companies in this article