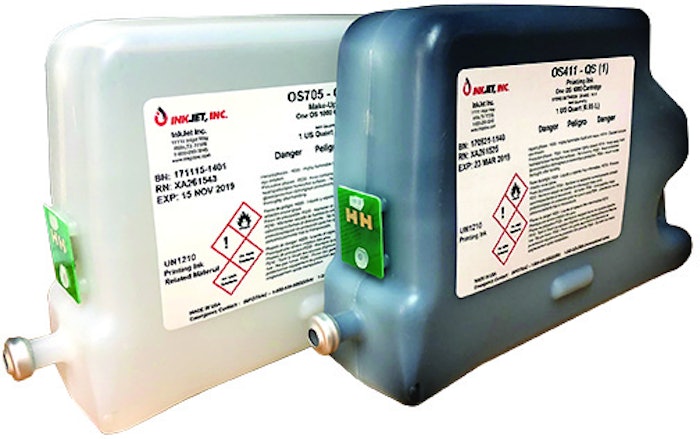 "InkJet, Inc. is one of a few manufacturers openly marketing a novel product that is compatible with the Videojet®line of printers," commented Patricia Quinlan, chairwoman of InkJet, Inc. "Our Open Source cartridge is about freedom of choice. Coding and marking is a mixture of equipment and consumables. Companies mistake their coding issues with a printer problem when, in reality, it is a chemistry issue. This cartridge is perfect for customers who are seeking a solution that reduces change out time, are less hazardous, reduces waste, and provides access to custom inks – all key factors that are more important to them than a brand name."
Benefits to customers
The Open Source Fluids line includes ready-to-ship inks for various applications such as general purpose, food grade, fast dry and environmentally friendly formulas. InkJet, Inc. can also work with manufacturers to create custom formulations to meet difficult specifications.
Designed specifically for the Videojet®1000 line of continuous inkjet printers, InkJet, Inc.'s CIJ cartridge fluids are optimum quality and more cost effective than the Original Equipment Manufacturer (OEM) solution. InkJet, Inc.'s fluids, which include inks, makeups and cleaners, are available as compatible replacements for commonly used Videojet®fluids with a money-back guarantee.
Customers who want to replace their existing Videojet®cartridge can do so with InkJet, Inc.'s CIJ Cartridge Fluids with no flushing or maintenance. End users simply remove the old cartridge, install the new cartridge and continue printing.
"Super micro fine filtration is the differentiator in our Open Source Fluids. Our fluids allow for more uptime due to the ultra-clean ink that we developed and is available at a fraction of the cost," explained Mohammed Siddiqui, chief operating officer of InkJet, Inc.
Companies in this article