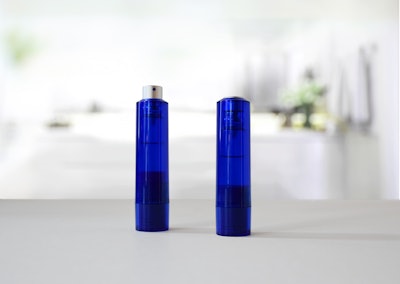 Precise Packaging, a strategic partner offering complete aerosol and liquid product solutions from formulation development to product design, compounding, filling, labeling, packaging, and more, introduces its innovative, twist-top spray bottle for personal care products. The package is designed for user convenience, transforming a spray product for consumers to carry with them in a small, easily portable dispenser.
The twist-top spray bottle combines a small glass or plastic pump spray bottle with an acrylic tubed outer shell with removable top over-shell and base. The pump spray bottle sits securely in the acrylic base and the tubular over-shell fits over it. Twisting the base pushes the pump up through an opening in the top of the over-shell for dispensing. Another twist pulls it back down, similar to how a lipstick tube functions.
"This package is ideal for on-the-go personal fragrances and sampling multi-packs," said Judi Brown, Precise Packaging's director of business development. "The small pump spray bottle can be removed and replaced with a refill container of the same or a different fragrance or formulation. A multi-pack could include several refills for sampling purposes and variety, offering brands an opportunity to cross-sell their products and expand consumers' exposure to an assortment of their offerings."
It is also well suited for certain types of other liquid spray products such as hair serums, depending on their viscosity. The actuator can be customized to deliver a fine mist spray or wider spray patterns to fit the product formulation and use. The acrylic over-shell can be litho printed, screen printed, or labeled for branding purposes. The over-shell and base are available in a variety of colors.
Whether customers are launching a new product and need an expert source to help from the formulation stage, or need a strategic partner to manage the entire production process, Precise Packaging offers more than 25 years of specialized experience with aerosols, liquids, mousses, and other unique formulations. Its product development experts work with customers to turn their ideas into reality—finding the right formulations, manufacturing processes and packaging solutions to help customers be more successful in a competitive global environment.
Companies in this article