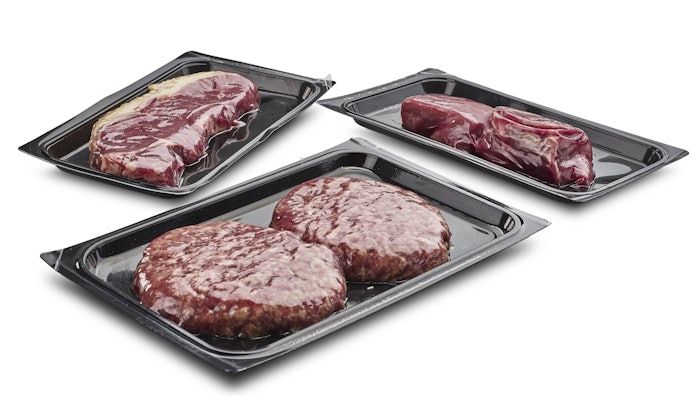 In response to consumers becoming more discerning about the quality and on-shelf appeal of meat, fish, and other fresh foods, KM Packaging developed a new range of K Skin films.
K Skin top and base films are versatile and compatible with most major sealing machines including thermoformers and those that seal to pre-made trays. For f/f/s machines, KM can supply both top web skin film and the thermoforming base webs.
These films also reduce waste throughout the supply chain due to ideal seal integrity without impacting a smooth easy-peel opening. In addition, KM can supply a cost-saving option with films that will seal to mono-APET and mono-PP trays without a PE layer—thereby enabling the base webs or trays to be recyclable.
K Skin is available in two grades, 100 and 150 micron, and seals tightly to the product and tray corners to avoid "creep," but also features high clarity for optimal visibility and stability for the contents. K Skin brings ideal machining capability with a combination of robustness and heat tolerance to a range of temperatures.
"K Skin boosts our reputation for providing innovative packaging solutions that help to extend shelf life, prevent food leakage or spoilage, and provide the consumer with a positive shopping experience," says Graham Holding, KM Packaging's commercial director. "The versatility of K Skin is complimented by its benefits, which include robust process tolerance, extended product shelf life, superb sealing capability, and exceptional gloss and clarity of presentation."
Companies in this article