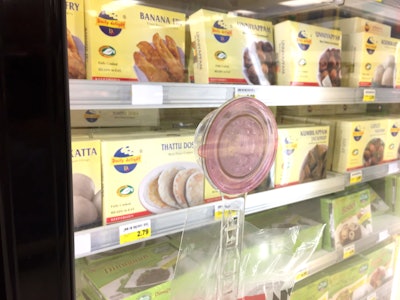 iSEE Store Innovations, a designer and manufacturer of merchandising display solutions, launched Tundra, the company's new proprietary coating for use with suction cups in frozen environments. Tundra can be applied to the company's patent-pending suction cup design, known as Displayloc, to offer new frozen display retail space in convenience and grocery stores.
"Many suction cups fail in extreme cold due to the vacuum seal losing strength with a cold surface and condensation," says Steve Brenner, chief creative officer, iSEE Store Innovations. "We've created a reliable suction cup marketed for inside the freezer space, and we are excited about opening up a whole new territory for merchandising."
Tundra is made with a proprietary coating to provide a strong grip at 32 °F and below. Once Displayloc suction cups are coated with Tundra, the clear suction cups turn pink to demonstrate they are freezer-ready. The Displayloc screw-on suction cup was designed to hold loads as heavy as 50 lbs. in coolers and freezers, and features a structural knob that accepts various signage on the post and front panel.
iSEE Store Innovations has designed many Displayloc suction cup display and accessory systems to carry a variety of product types on glass-smooth surfaces. With the application of Tundra, the company's existing Apex, Sherpa, and K2 display and accessory systems can now be used in frozen environments.
Tundra has multiple uses for unexplored retail space, from new primary package changes and configurations to promoting special event packaging on glass, showcasing new flavors, high-end, and craft product on the shelf, all while adding extra shelf space to a retailer's glass door.
"This is about opening up frozen space in grocery and convenience stores and generating a new, positive shopping experience," Brenner says. "Tundra is taking frozen territory to a new level."
Companies in this article