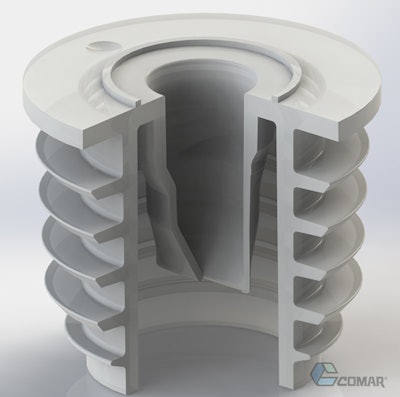 Comar, a manufacturer of child-safe dosing products for liquid medications, has redesigned its DoseGuard® valved bottle adapter.
Recognized for protecting children from accidental overdosing of liquid medications, the new DoseGuard design is compatible with standard 20mm containers comprised of popular resins and glass, and accommodates standard oral syringes.
The improved flexibility of DoseGuard allows it to more easily integrate with packaging lines, and gives manufacturers of liquid over-the-counter and prescription medications an additional means to comply with the April 2016 FDA Guidance on minimizing medication errors.
Known as "Safety Considerations for Product Design to Minimize Medication Errors," the guidance document refers to an estimated 7,000 deaths occurring each year as a result of medication errors.
Medications now exceed household products, such as cleaning fluids, as the primary cause of pediatric poisoning. To develop preventive strategies, the U.S. Centers for Disease Control and Prevention (CDC) formed the PROTECT Initiative bringing healthcare professionals together with leading over-the-counter medication and packaging manufacturers. Comar, an original member of the PROTECT Initiative, developed DoseGuard in response.
DoseGuard is a valved bottle adapter that fits into the neck of industry standard (20 mm) bottles, whether the bottles are comprised of HDPE, LDPE, PP, PET resins, or glass. The adapter features a patented valve design that remains closed until the tip of an oral syringe is inserted.
Once the oral syringe is inserted into the adapter, the valve opens, allowing for the extraction of medicine into the syringe. When the syringe is removed from the adapter, the valve closes, securing the liquid medicine once again. The opening of the valve is customizable to specific product viscosities, and its one-piece construction using a single material reduces contamination risks. Additional sizes can be added.
The Comar DoseGuard valved bottle adapter is protected by patents and manufactured per current Good Manufacturing Practices (cGMP) and ISO 9001:13485 quality standards.
Companies in this article