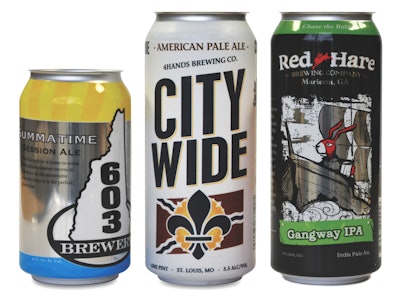 Verst Group has identified a major need for craft brewers: can availability. Recently, major can suppliers have instituted minimum quantities, thereby making it difficult for smaller operations to acquire necessary cans. Verst has stepped in to fill that void.
"With the major can companies now requiring a large minimum order, we identified an opportunity to help the craft brewing community. We'd rather be an ally than a hindrance," explains Will Schretzman, Vice President, Packaging.
Verst allows craft brewers to purchase cans for smaller runs by housing an available inventory at all times. This also eliminates the need for brewers to warehouse and manage their own excess inventory.
Shrink Sleeve technology and longstanding relationships with multiple label printers make Verst a viable partner for can decoration. Additionally, the new on-site Fuji Seal 415 High Speed Applicator runs up to 600 cpm, expediting the process and speed to market. Shrink Sleeve affords more opportunities for smaller regional, seasonal and promotional runs, while the latest printing finishes open up decorating options never before available with printed cans.
Companies in this article