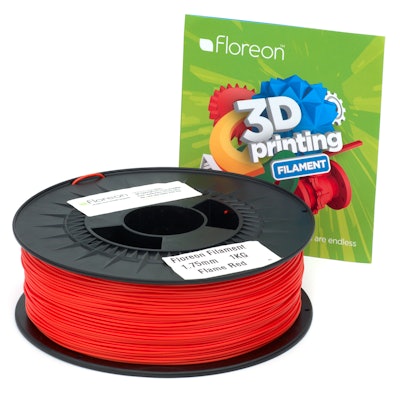 Floreon3D, a new bioplastic 3D printing filament, isfour times tougher than conventional polylactic acid (PLA). Floreon, an innovative U.K. bioplastics company, created the new filament by blending a novel polyester-based polymer blend with standard PLA. Floreon3D is not only tougher than PLA, but also combinesbetter processing with a smoother printing experience.
While conventional PLA has a lower carbon footprint and non-renewable energy usage than any mineral-based thermoplastic, when used in 3D printing filaments it is renowned for its poor toughness. While it delivers clean low-temperature printing, it has limited performance, and some strand breaks have been reported with lower quality PLA filaments.
Floreon3D addresses the need for a sustainable 3D printing filament that matches the performance of conventional filaments—but without the unpleasant smell during processing. It is tough, flexible, and gives an excellent matte finish, which improves the appearance and durability of finished items and keeps the printer nozzles clean.
As the use of 3D printing accelerates in applications such as prototyping, proof of concept, and production of customized products, users demand robust output with high quality and fine detail. At the same time,as its uptake in schools, business, and the home takes off,environmentalists are keen to make sure 3D printing goes green.
Key features of Floreon3D:
Consistent filament diameter
Fewer breakages than PLA
No nozzle clogging; less machine downtime and less waste
Low smell during processing
Tough, flexible, and strong
Excellent matte finish
Six colors, which stay as vibrant as on the spool
Biodegradable
Dr. Andrew Gill, Floreon Technical Director, explains the advantages of Floreon3D: "We wanted to offer a high quality 3D printing filament that is far better than conventional PLA. It has taken us five years, but I'm pleased to say all the hard work has paid off and we have found the resulting product gives a smooth printing experience with excellent interlayer adhesion and is less likely to break than conventional PLA. In addition, it is four times stronger and, with an excellent matte finish, the items it produces look very professional. All this is achieved without compromising the attractive aspects of PLA such as low odor and low print temperatures compared to other popular plastics used in 3D printing."
Bill Stringer, Floreon Commercial Director, confirms the availability of Floreon3D: "We have begun to produce Floreon3D in commercial quantities and I am delighted to say that it is now available for end users to purchase on Amazon. Currently available in 1.75-mm diameter in 6 colors (red, blue, yellow, black, white and of course green), we will be working to extend the range of products over the coming year."
However, Floreon's ambitions do not end there, as Stringer explains: "Now that we have moved into production, we are working to form partnerships with printer manufacturers to make Floreon3D their recommended high performance, environmentally friendly 3D printing filament and withdistributors and filament producers to incorporate Floreon resin into their products."
Companies in this article