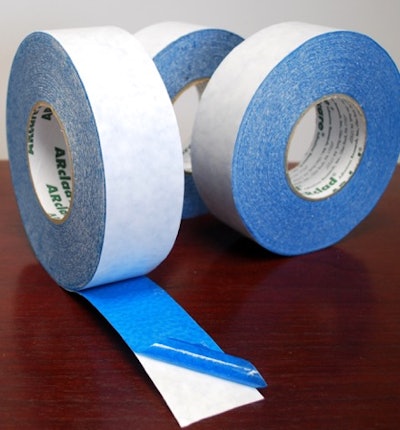 Adhesives Research, Inc., a leading developer and manufacturer of pressure-sensitive adhesives, tapes, specialty coatings, films, and laminates, announces ARclad 0082 splicing tape for bonding low-surface-energy films and other challenging substrates in high-speed applications.
ARclad 0082 is an 8-mil, double-faced tape featuring a high performance, rubber-based adhesive coated onto a conformable paper carrier. The tape's blue color allows for easy splice detection and visual confirmation that the white release liner is removed during splice preparation.
ARclad 0082 increases throughput by providing secure bonds to high-slip films in flying splice and winder applications at speeds up to 1750 feet per minute (FPM). It also bonds well to cold substrates and maintains consistent tack for reliable splices in colder environments.
This tape is ideal for splicing low and high-density polyethylene films, polycoated films, foils, and paperboard. Related splicing applications include bonding substrates in unwind splicers, automatic core starts, and static overlaps.
Companies in this article