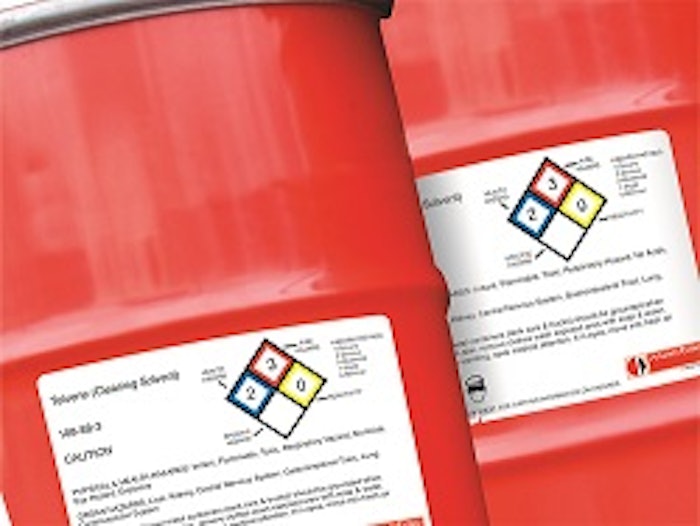 MACtac® Performance Adhesives Group expanded its portfolio of chemical drum label certifications by achieving British Standard (BS) 5609 Section 3 compliance for PJ6914 and FDD6919 labelstock materials used in conjunction with iSys Label's EDGE 850 digital label printer and toner. This compliance helps customers comply with the new Globally Harmonized System (GHS) of Classification and Labeling of Chemicals.
GHS is a system that has been created by the United Nations for standardizing the classification and labeling of chemicals throughout the world. Under the GHS format, labels will include signal words, pictograms, and hazard and precautionary statements. Drums and containers used to transport petroleum, paint, liquid and powder chemicals must include labels designed to meet extreme conditions, identify the content of the drum, and give proper warning and safety instructions that remain legible for many years.
"Chemical manufacturers have until June 2015 to fully comply with OSHA's updated Hazard Communication regulation for printing hazardous chemical labels," said Kim Hensley, product manager, MACtac Performance Adhesives Group. "As the GHS mandate draws closer, it is critical to be prepared to meet the deadline. MACtac is committed to staying ahead of these changes to continue providing our customers with trusted products that meet the latest industry regulations."
In order to comply with new GHS standardization, MACtac has proven that iSys Label's EDGE 850 digital label printer and toner can be used with FDD6919 2-mil matte white polyester/MP690 adhesive and PJ6914 2.6-mil gloss white BOPP/MP690 adhesive labelstocks to achieve standards compliance. Testing for BS5609 Section 2 and Section 3 has been completed.
iSys Label is an innovative developer and manufacturer of short- to mid-run digital label printers that deliver production quality labels print after print. Creating a complete solution that meets internationally recognized standards for durability and environmental resistance, iSys Label toner is printed with EDGE 850 to allow customers to easily comply with new GHS standards.
Companies in this article