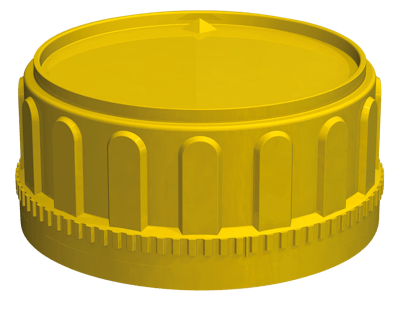 The innovative closure has been specifically designed for larger agro chemical containers and aims to improve overall product safety for end users. It was first showcased during Interpack 2014, the leading trade fair for processes and packaging that was held in Dusseldorf in May.
63 PROSLIT not only confirms Procap's place at the forefront of its industry for agro chemical closures, but also underscores the company's leading position in devising progressive solutions that meet the needs of both fillers and end users.
Featuring a totally new type of TE band – a folded snap/slitted flexband -, 63 PROSLIT helps prevent counterfeiting, thereby protecting the product's brand. It is also highly tolerant toward differences in container neck finish. With bridges that break on first opening, allowing the band to drop down, the band also offers evidence of tampering, assuring the validity of contents for end users.
63 PROSLIT is fully UN compliant. Its standard multi-layer foam disk liner provides a reliable seal and full chemical barrier for water-based or solvent-based products, whether they are powders to liquids. Even on reclosure, with 63 PROSLIT the container maintains a complete seal, making it much safer for end users. 63 PROSLIT complies with UN specifications for closures without a traditional Induction Heat Seal (IHS) liner, although it can be delivered with an IHS liner. Indeed, the new closure can be used with a wide range of IHS and PE foam liners. 63 PROSLIT performs well on mechanical tests and chemical resistance trials, and as a result fully meets UN homologation requirements for the transportation of dangerous goods.
63 PROSLIT has been specially designed to include a handy integrated foil cutter to make the incision of foil seals much easier. Although a standard closure design on the inside, the external appearance can be modified as desired to increase brand recognition and enhance shelf appeal. 63 PROSLIT is available in different colours and tampo printing on the top is possible. The closure's standard overall dimensions mean no alteration of filling or capping lines is required. The new leak-proof closure can be introduced to existing operations quickly and easily.
63 PROSLIT can also be supplied with impressively short lead times and at a competitive price as it is produced in large numbers on PROCAP's fully integrated production line. The line comprises a large multi-cavity dedicated injection moulding machine, liner and printing station.
United Caps (formerly PROCAP) prides itself on selecting only the highest quality of raw materials to assure superior quality products and 63 PROSLIT is proof of that. The closure is highly resistant to stress cracking even at elevated initial screwing torque following filling (>10,0Nm). In line with PROCAP's policy of protecting the environment, 63 PROSLIT has been designed to be easy to recycle. This increases the recyclability of the total container.
Companies in this article