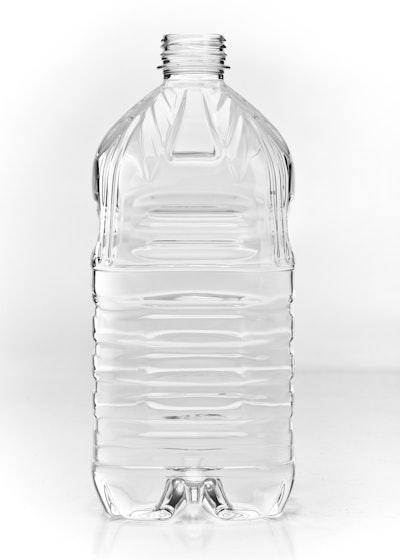 Said to be the industry's lightest 64-oz. hot fill PET bottle, the Powerblock 3.0 has established a new standard for the size category.  It not only features a lightweight and strong design, it also provides quality filling and stacking performance. The hot fill container also features a 38mm lightweight finish, said to save considerable material compared to the standard 43mm finish for typical 64-oz. PET bottles.
The Powerblock 3.0 also retains line/stack handling performance and maintains ergonomic features for consumer handling.
Several technologies work synergistically to unlock material normally trapped in the base area:  an optimized conical base pushup with special diameter and height ratios and relationships; a round or rectangular base with strap-like features that are added to create a footed-style base.; and a segmented standing surface consisting of four standing 1-in. columns, which are lightweight, strong, and rigid.
These technologies provide better material distribution in the container body, resulting in a lighter weight container without sacrificing performance. Angles, ratios, and other bottle geometry are optimized to obtain a balanced response to vacuum, pressure, and top load forces.
Powerblock 3.0 also provides multiple fill contact points and flat sides for added stability; optimized footprint (width and depth) for improved pallet pattern and corrugate savings; sustainability benefits including a reduced carbon footprint and transportation costs; and secure consumer handling with three intuitive areas for single-hand pouring.
Companies in this article