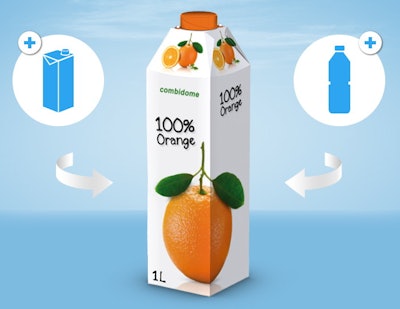 Beverages filled in combidome are safely protected from light and air. Nutrients and vitamins in the beverages are retained, without preservatives. Its shape, stability and smooth pouring action, makes it as easy to handle as a bottle. The large, centrally positioned dome twist screw cap makes pouring and drinking straight out of the carton even easier. Combidome is also securely reclosable.
Flexible manufacturing means a change of carton decor can be implemented without interrupting the production process and without waste; just switch the carton sleeves in the filling machine.
The carton composite from which the entire carton pack is made contains approximately 75% paper board, which is made from the renewable raw material wood.  An independently verified, ISO-compliant life-cycle assessment shows that over the full life-cycle, Combidome carton packs generate 41% less CO2 than disposable PET multilayer bottles. Compared to disposable PET monolayer bottles, it is 27% less and compared to disposable glass bottles it is 75% less.
Combidome is manufactured from only raw cardboard made of pulp from trees harvested in FSC®-certified forests (Forest Stewardship Council®) or other controlled sources is used. Carton packs display the FSC label.  Combidome and its closure are fully recyclable, and are compatible with all national recycling and waste management systems, according to the company. combidome can be disposed of and recycled as a single unit.
Companies in this article