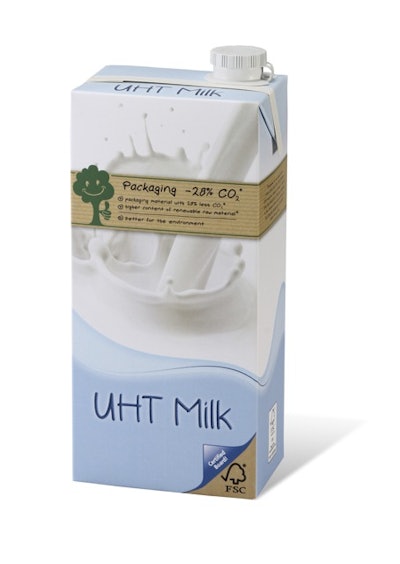 Compared to a 1-litre carton pack of the same format, combibloc EcoPlus is said to generate 28% less CO2.  At more than 80%, the main component of the composite structure is a special type of raw paperboard based on wood, which gives the carton pack stability. The paperboard ensures that the products filled in the carton pack are protected from light. The Forest Stewardship Council label on all combibloc EcoPlus carton packs assures the consumer that the wood fibers processed to make the paperboard come from FSC-certified forests or other controlled sources.
Also, a special new, razor-thin polyamide layer serves as an additional barrier to protect the product from flavor loss and external odors. Added to this are fine polyethylene layers inside and outside. The inner polyethylene layer forms a liquid barrier for the product; the outer layer keeps moisture out.
The carton has now been enhanced with an environmentally-friendly closure that combines sustainability and convenience: the screw cap combiCap weighs just 1.9 grams--about 60% less than the first screw cap launched by the company.
The screw cap is applied on an over-coated hole. Holes of the correct size are punched in the raw paperboard before it is laminated. The closure, which is applied to the carton pack after the product has been filled, can be easily opened by the consumer with a single twist, as the cardboard layer has already been removed and only the thin polymer layers need to be opened.
The tamper-evident closure consists of a flange with integrated cutting ring and a screw cap. The carton pack remains leak proof after it is reclosed.
Companies in this article