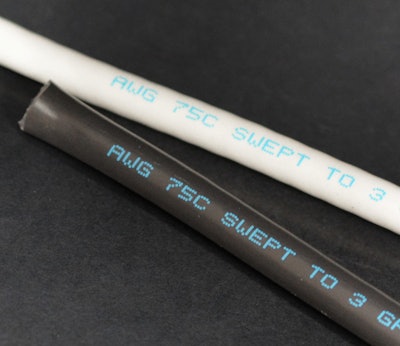 Designed for the Videojet 1710 high contrast ink printer, the V492-C light blue ink is specially formulated to adhere to a wide variety of extruded pipe, hose, cable and wire substrates. These products are typically constructed of plastics including PVC, LDPE, and HDPE in various colors. The light blue ink can achieve optimal contrast across a wide range of substrate color variations, increasing the versatility of the ink jet coder, eliminating the expense of switching to different inks, and/or minimizing the need for additional printers dedicated to specific colors.
The V492-C ink provides quality transfer-resistance and adhesion. It is also sun/UV fade resistant—which is important for temporary outdoor exposure applications such as those at job sites or those in temporary outdoor storage at a manufacturer's plant.
For use on high-speed production lines, V402 dark gray ink is suitable for PVC plastic substrates that require fast dry times. With less than one second of dry time on cold PVC material, V402 ink dries 25% faster than the fastest drying ink previously available for Videojet's 1000 Line of continuous ink jet printers. The ink formulation resists smearing on coded cables while providing good adhesion. As a secondary application, this dark gray ink can prove advantageous when lower contrast, lower visibility codes are desired for building materials, consumer products or parts assembly applications—especially where production codes are needed but only for infrequent or obscure reference.
Companies in this article