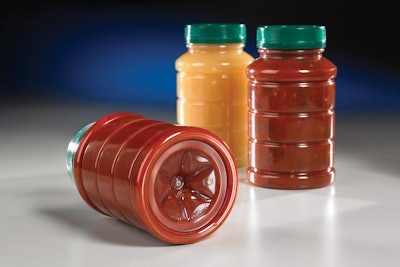 Designed for food applications, such as salsa, red sauces, etc., the 63 mm, round, wide-mouth stock jar is a smaller 'PET with barrier' jar option for pourable or spoonable products. Food processors will now be able to convert their 24-oz. glass jars.
Manufacturing smaller PET containers, which provide adequate barrier properties for food applications, has traditionally been challenging. "Surface to volume" ratios of smaller containers negatively impact shelf life by allowing a larger amount of oxygen to migrate through the sidewall and into the product.
Using Monosorb monolayer PET barrier technology addresses the performance issue of oxygen migration when using smaller containers. This barrier system features a scavenger which absorbs oxygen passing through the side walls, providing longer shelf life for food products.
The 24-oz. jar also features new generation StarFlex base technology. Improved material distribution in the jar's standing ring and heel makes it resistant to dents and vacuum creasing. The new design elements, including inverting the fluting in the base, trap less food and improve product evacuation by allowing a spoon to neatly travel around the entire heel. Additionally, a stacking feature allows one container to be stacked on top of another on the retail shelf by locking the cap of the bottom jar into the base of the top jar.
The round container also features ribs to resist ovalization during the cooling period which follows hot-filling (195 to 200 degrees Fahrenheit).
Converting 24-oz. food products from glass to PET also opens up new merchandising for food retailers and usage opportunities for consumers. For example, the shatter-resistant jars can be placed into end-of-aisle barrel displays, which are discouraged with glass. Smaller volume PET containers are also more desirable for recreational uses such as outdoor events, boating, etc.
Companies in this article