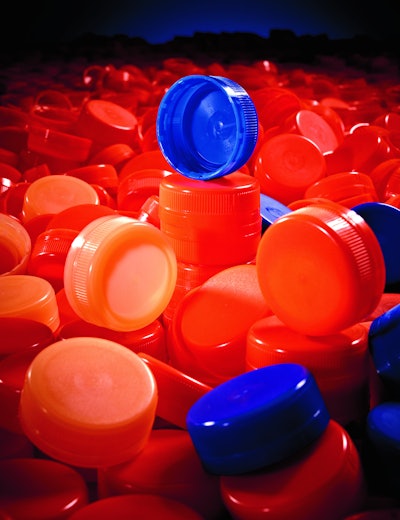 Made with HDPE, DoubleSeal features a 2-in-1 outer plus inner seal in a single, liner-less cap.  Instead of down pressure during the sealing process, DoubleSeal caps provide lateral, opposing force pressure from both the outside and inside.  This effectively supports instead of distorts the neck, which also results in a superior seal, with virtually no leakers.  The thicker walls employed to combat distortion from two-piece closures can be slimmed down dramatically. 
The neck finishes in a typical 20-oz. hot fill container are about 95/1000-in. thick.  Depending on the customer's filling process, Bericap can reduce it to  50/1000-in.--nearly 50% less with no sealing problems.  This saves about three grams of plastic, or 10% of the 30 gram total in a typical 20-oz. bottle. 
Most traditional two-piece closures break at a 20% rotation point, but with DoubleSeal it is in excess of 120%. The liner-less technology offers similar sealing advantages in cold fill, water, and other applications. This system fits smoothly into existing hot fill operations with very little capital investment.  Changeover from two-piece equipment can be accomplished with very little production downtime, typically in less than a day.
Output quality is further assured by the injection-molded production of DoubleSeal caps.  Unlike compression molding two-piece closure shells that are used with liners, injection molding provides much more control over critical features, ensuring dimensional stability and the integrity of every cap.
Companies in this article