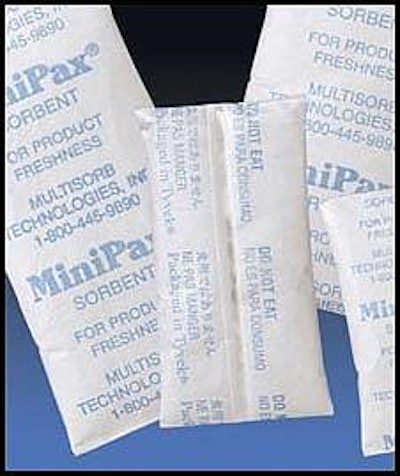 MiniPax packets are offered with a variety of sorbent blends and sizes to meet specific packaging needs.
MiniPax packets have several distinct advantages for your packaging:
* Small sizes with superior performance capacity
* Constructed with extremely durable, tear resistant, medical grade, uncoated Tyvek®
* Non-dusting design
Typical applications include:
* Pharmaceutical
* Medical diagnostic kits
* Electronic equipment
* Optical instruments
* Food packaging
Cost-effective, space-saving packaging protection with outstanding versatility
MiniPax is designed to give you a superior, cost-effective sorbent packet for your packaging requirements. The low profile and compact packet shape uses little package space, giving MiniPax great versatility for a wide variety of packaging applications.
Superior packaging material
MiniPax packets are formed of heat sealed uncoated Tyvek®, an extremely tough and durable sheet of spunbonded polyolefin fibers.
* High strength - MiniPax has high tear strength in all directions and is virtually puncture-proof to eliminate risk of leakage and product contamination.
* High WVTR, Controlled Porosity - A high water vapor transmission rate (WVTR) makes the material ideal for sorbent packets. Porosity is closely controlled during the manufacturing process to assure consistency batch after batch. This eliminates any variation in the allowable handling time of a MiniPax packet.
* Non-dusting, non-linting - The dense packing of the fine Tyvek fibers forms a tight barrier to particulate matter and prevents desiccant dusting. MiniPax packets have a stable, abrasion resistant surface and are not subject to linting.
* Wet Strength - MiniPax is unaffected by water or moisture and is as strong wet as it is dry. It will not rot or mildew.
* Odor and moisture adsorption - MiniPax is permeable to odors and gases, thus a MiniPax packet containing an appropriate sorbent blend can be used for both odor and moisture protection.
* FDA and USDA Status - The medical grade Tyvek used in MiniPax construction is chemically inert and can be used in food and pharmaceutical packaging applications. Also, Drug Master Files are available on select MiniPax products.
Efficient package design
* Compact - The low profile and compact shape of MiniPax packets saves space and displaces a minimum amount of product. Its flat contour eliminates any potential confusion with a capsule or a pill.
* Maximum surface exposure - The exceptionally narrow seal skirt on only two ends gives MiniPax packets an unusually large adsorptive surface area for its overall size.
* Integral window - An integral transparent strip permits observation of the contained adsorbent and allows effective use of indicating desiccants to show when moisture has been adsorbed and desiccant should be replaced.
A choice of sorbent blends
MiniPax can be produced in a wide choice of sorbents and sorbent blends to meet your specific needs. Blends of odor and moisture adsorbent compounds may be furnished when both odor and moisture protection are desired.