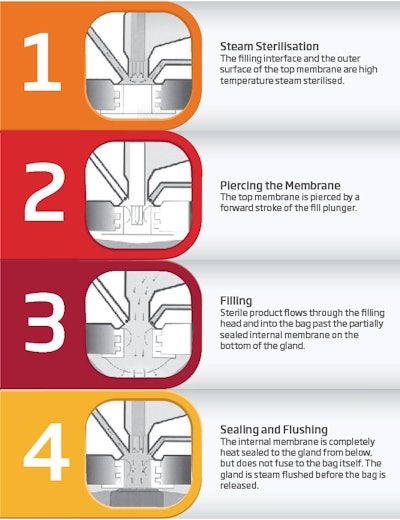 Since Intasept was introduced by Rapak, part of the DS Smith Plastics Division, the aseptic part of the business has grown to now constitute 12% of total bag-in-box European sales. The aseptic bag-in-box market in Europe is estimated at 62 million liters and growing, as this packaging format successfully penetrates new product categories. bag-in-box for functional foods is one of the new areas in which growth is expected for this packaging format. The utilization of Rapak Intasept aseptic filling technology in bag-in-box format for functional food is used to supply active ingredients such as Omega 3 and vitamins that are added to dairy or other products.
Rapak's Intasept technology comprises of a gland and filling systems that are used together for the sealed hygienic filling of aseptic product into bag-in-box packaging. The uniqueness of the system is due to the double membrane technology of the gland which is available in 32mm and 16mm formats.
In 2013, the next generation of 32mm Intasept gland with a new patented energy-rising technology for bag-in-box packaging was introduced in the market. This development ensured a more effective seal of the flexible bag, thus enhancing the security and integrity of Rapak's Intasept aseptic technology. Rapak has also expanded their range of bag-in-box aseptic dispense fitments, enabling the utilisation of Intasept aseptic filling technology for bag-in-box for a wider variety of liquid products across a variety of market segments such as:
• Beverages – dairy, juices, coffee, tea, beer concentrates and other.
• Food – soft serve ice cream mix, creams, custards, puddings, soups, broths, sauces, fruit and vegetables purees and pulp with particles up to 10mm.
• Bio-medical – clinical feeding and cell culture media.
As for Intasept aseptic bag-in-box filling equipment, these compact versatile fillers are available in both semi-automatic and fully automatic options for 1-20 liter bags as well as for bulk containers. They provide a sterile and completely sealed aseptic product transfer path for both low and high acid products without using any chemical sterilizing agents. The system is easy to install with only steam, compressed air and single phase power. No special factory environment is required as the Intasept closed transfer system excludes ambient air from all stages of the filling process.
Strong acceptance of Intasept technology in the market demonstrated Rapak's ability to offer the highest levels of sterility for aseptic filling of bag-in-box. The company believes that this technology will continue its expansion into new product categories such as pharmaceutical and value-added products.
Companies in this article