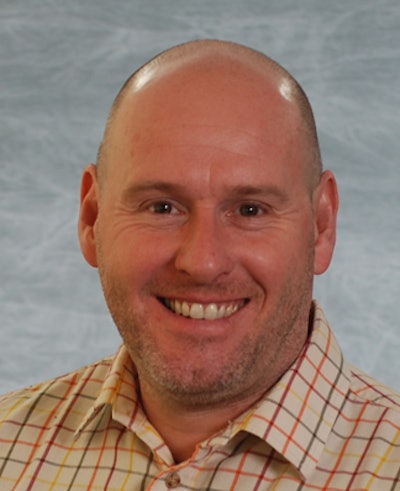 While this is a new position for Hardy, he has been in sales and various supporting roles for most of his career. Hardy moves into the position formerly held by Mike Stiles who was recently named CEO of R&D/Leverage. Hardy has been with R&D/Leverage since 1999 where he started with the Company's UK facility.
While the new trend in some areas of professional sales is away from face-to-face selling, Hardy doesn't believe that applies to the industries we service. "I don't believe that to be true, it's a theoretical idea. In our industry the lead times and pricing are relatively the same across the competitive landscape. Those who can build relationships and trust will get the order. Face-to-face selling is as important as it's ever been." Hardy believes this relationship building is the first of three key factors for sales success. "All things being equal, customers want to do business with the person with whom they have a relationship," said Hardy. "We make a world-class product and if we can develop these relationships it will be a win-win for everyone."
Secondly, no sales person can do it all. Every sales person needs the support of the staff at the company. That includes the person who answers the phone to engineering to project management to the "world-class tool makers" such as the ones at R&D/Leverage. "We have to make things right," said Hardy. "We have to produce molds on time and on budget."
A third factor in successful selling is educating the marketplace about the company and its value to ensuring an excellent product; one that will stand out on store shelves and be successful. R&D/Leverage is more than just a mold maker. The company's unique value proposition in structural brand development capabilities including upfront research such as retail audits, trend and color studies, ethnographic research, consumer focus groups, development, validation and implementation makes it a true partner with Brand Owners to achieve their packaging goals.
"We work with a number of people as customers including those in product development, engineering, and purchasing. Each has a different role and a different perspective on the project. As a sales person you have to know how to talk to everyone. We help with product development for our customers who ask us to provide that service. We've managed to position ourselves so that people trust us and our expertise, they understand the value of integrating the steps required from initial design to final production"
Mike Stiles, newly appointed CEO comments, "When I accepted the CEO position I knew there were several strong internal candidates to fill the position of Director of Sales that I had vacated. I also knew that there were some key customer and Account Manager relationships that have been developed over the years and it can be risky to make changes in any relationships. I had some difficult decisions to make. Duncan surfaced as the perfect candidate to fill this opening. He is a natural leader, a guy who leads from the front rather than pushing the team. He leads by example and guides based on experiences he has from the many years he served on the front-line of sales." Mike added further, "Duncan has global experience in sales having worked in that capacity in both our UK and US facilities. He understands the cultural differences and will adjust his approach accordingly.I am elated at the way he is doing this job, he has absolutely exceeded every expectation. To be successful, a team must have players in the right position. It is obvious that naming Duncan as Director of Sales has been one of the best decisions I have made while leading this company."
Companies in this article