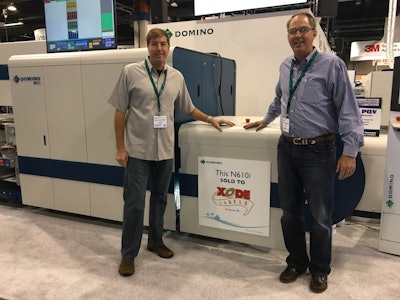 Xode, a manufacturer of custom labels, purchased the Domino N610i 7-color digital UV inkjet label press that was shown in the Domino booth at Label Expo. This is the first digital "production" press for Xode. President Pete Seitzinger and his brother Vice President John Seitzinger are enthusiastic about the purchase.
"We have flexo and a small entry level digital printer, one that accommodates printing 2500 labels or less. Any jobs that require more than 2500 labels, we put on our flexo. However, not all label jobs are designed for flexo, especially those with multiple SKUs and versions, so we really need the digital capabilities that the N610i 7-color digital UV inkjet label press will provide," Pete says.
John adds, "For example, we have customers who come to us with jobs that have 200 SKUs, 5,000 labels per SKU, printed CMYK. Plate costs to run those flexo can be in the tens of thousands of dollars, not to mention the 40-minute make-ready time to changeover from one version to the next, so we knew we needed a true digital production label press to meet our customers' needs."
Xode's flexo will also have more capacity by having the Domino N610i digital UV inkjet label press.
"By having the Domino we will be able to do more and in less time. Turnaround time for repeat jobs that were two weeks, as well as new jobs that take us three weeks, all will now be completed in less than one week by having the Domino," John says.
The Domino N610i 7-color digital UV inkjet label press runs at a minimum 165 fpm, and up to 246 fpm. Print resolution is 600 x 600 native dpi, the extended color gamut achieves more than 90% of the Pantone range, and the white that has an opacity more than 70%.
Companies in this article