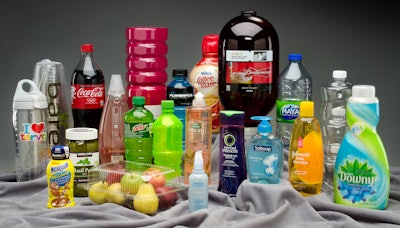 Plastic Technologies, Inc. (PTI) has achieved a milestone—the creation of its 10,000th package design. 
For the past three decades, the company has developed PET and other plastic-based packages. PTI typically works behind the scenes as a confidential package development partner for major brand owners. The company approaches each project holistically—aesthetics, function, ergonomics, differentiation, shelf life, economics, material selection, and processing—to help brand owners reach commercial objectives.
PTI started a new numbering system in 1991 to keep track of its design iterations. Since that time, it has designed 10,000 packages or components. These include: 4,350 bottles, 2,820 preforms, 900 finishes, 550 bases, and 1,380 miscellaneous items. 
Packages are designed for applications such as beverages (carbonated and non-carbonated, water, juice, hot-fill, aseptic, ready-to-drink teas, juice, etc.) food, personal care, household/industrial chemicals, pharmaceuticals, nutraceuticals, etc.

"PTI is extremely proud of its decades-long partnerships with leading brand owners and its significant contribution to the packaging industry. These ten thousand final packages or components actually represent 31,000 different design iterations. On average, each project goes through three different design iterations before it is approved," says Scott Steele, President. 
Materials commonly used to create the packages include PET, high-density polyethylene, oriented polypropylene, and polyethylene naphthalate, plus bioderived PET alternatives, most notably polylactic acid. (PTI says it is continuing its pioneering development by working with new bioderived alternatives as they become commercially viable.)
Package sizes have ranged from 2-oz for an energy shot beverage to a 55-gal HDPE drum. The lightest preform design has been 5.9 g (also for the energy shot beverage).  The heaviest weighed in at 650 g and was designed for a beer keg application.  Non-package designs include items such as bezels for auto interiors and instrumentation (PTI's TorqTraq® device which measures closure/capper torque). 
"When people ask us to describe our company, we typically say that our DNA is on many of the packaging containers consumers use during the course of their day. We are grateful that our clients acknowledge our technical expertise by allowing us to help them create next generation packaging to support their brands," says Steele. "It is through their continued support of our expertise that we have been able to reach this 'ten thousand' milestone." 
Companies in this article