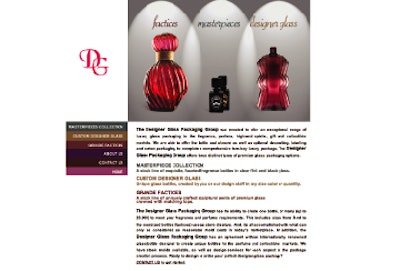 Designer Glass Packaging Group, an O. Berk Co.
New site offers information on all the different collections, photos, as well as contact information.
This new site represents the creation of the Designer Glass Packaging Group, a division of O. Berk, that was created to offer an exceptional range of luxury glass packaging to the fragrance, perfume, high-end spirits, gift, and collectible markets.
www.DesignerGlassPackaging.com
Eastman Chemical Co.
New Medical Technical Center launched by Eastman Chemical Co., helps designers, original equipment manufacturers, and processors select and successfully run appropriate Eastman polymer for flexible or rigid packaging. Web site provides fitness-for-use information, including clarity, toughness, chemical resistance, color stability, and compatibility with operations like joining, sterilization, and thermoforming. Site's material maps compare Eastman polymers to other clear polymers used in the medical market.
Graham Packaging
Newly launched online database enables customers and potential customers to search the company's catalog of stock containers and save the downloaded information and drawings in a password account. Database includes stock container options for the food and beverage, personal and beauty care, household, chemical, and automotive lubricant markets. Users can search by multiple criteria, including capacity, units of measure, material, shape, description, and neck finish.