Liquid shipping protection
PIG® BubbleZorb™ Packaging Material from New Pig is exclusively designed for shipping and transporting breakable liquid containers. BubbleZorb combines a multilayer PP absorbent mat attached to a PE and nylon cushion bubble, providing both protection against breakage and complete absorption of any liquid if breakage were to occur.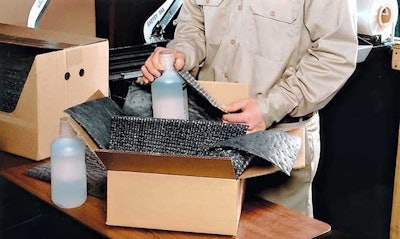 The 3¼16" PE-reinforced bubble absorbs 6 oz/sq' and is perforated every 12" for easy, customized sizing.