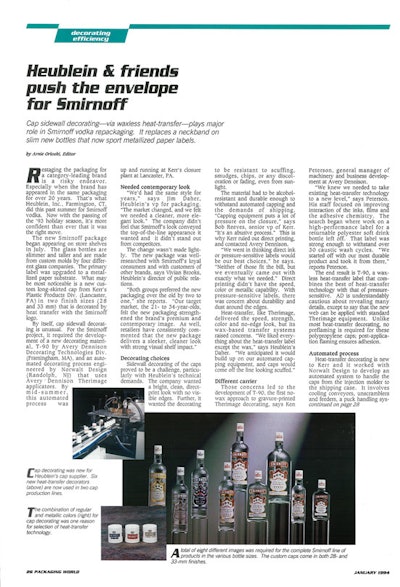 Back then, we were reporting on a U.S. Smirnoff bottler that was switching to a new, long-skirted plastic cap design that had us editorially impressed because its sidewall was decorated with a heat-transfer logo (shown), thus providing more real estate for branding and decoration. We were also wowed by the mechanical puck system designed to convey the tamper-evident, long-skirted caps as they were decorated.
My how things have changed. That mechanical puck system in the 1994 story, for example, would more likely be a linear servo track system today. Who knows, there might even be digital print stations arrayed along the track that would allow customization and personalization of individual caps.
But to really appreciate the stark contrast between then and now, consider the difference between the decidedly "dumb" closure we wrote about in 1994 and the "smart" Talkin' Cap covered in our January 2019 issue. This Talkin' Cap has embedded in it an NFC (Near Field Communication) tag designed to create meaningful interaction between brands and their consumers both at and after the point of purchase with the simple tap of a smartphone. Back in 1994, a cell phone was a new-fangled wonderment. As for NFC, it was rocket science stuff with no connection at all to caps or closures. Things have changed indeed.