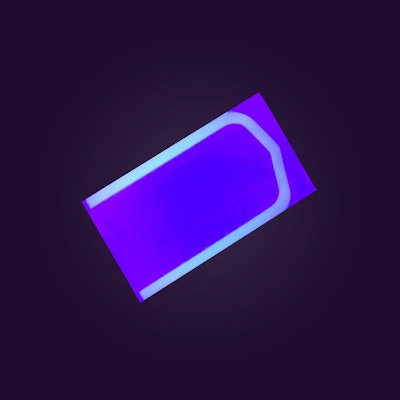 Non-destructive visual inspection of seal integrity is an important step for packages leaving the line, but smaller defects can pose challenges for operators. Add in worker fatigue, and anything that makes visual inspection easier to accomplish is a welcome advancement.
Enter AuraSeal, Rollprint Packaging Products Inc.'s new system on display at Booth #N-4953 at PACK EXPO. The system solves the long-standing challenge of assuring seal integrity with a non-destructive, efficient test. The system made its debut this week, along with Rollprint's official announcement of their international merger between Rollprint Packaging Products, Alliantz Flexible Packaging Pte Ltd., and EuroFoil Teo, as well as their new company name, Paxxus.
The system consists of a clear film top web incorporating the AuraSeal technology paired with an opaque, white film bottom web. The sealed package, when exposed to long wave ultraviolet light, will brightly fluoresce in the sealed areas. Channels are clearly visible to the naked eye due to voids in the fluorescence of seal areas. The result is an efficient method for non-destructive testing.
The system means manufacturers and packagers have the option to incorporate 100% seal inspection with minimal equipment costs, while increasing inspection speed and effectiveness.
Existing methods
The ASTM F1886 visual inspection method is limited in terms of the size of channel or seal defect it can detect. As Dhuanne Dodrill, CEO at Rollprint notes, it does have the advantage of being a non-destructive test. ASTM F3039, the test method employing dye penetration, has much improved sensitivity, but the test is destructive. Another common test used to assess seal integrity is F2096 Standard Test Method for Detecting Gross Leaks in Packaging by Internal Pressurization (known as bubble-leak testing), which detects gross leaks and does not have the sensitivity of F3039 dye penetration or AuraSeal. F2096 is also a destructive test.
AuraSeal offers a quick, non-destructive method of seal integrity inspection unlike dye-leak or bubble-leak testing. Defects within the seal can be identified instantaneously and the conforming packages can be immediately returned to inventory after inspection.
Applications
The AuraSeal system is designed to ensure seal integrity and increase overall efficiency for organizations serving the medical device, healthcare, and life sciences markets. In addition to being highly-efficient, the system is inexpensive to establish; a low-power "black light" and a visual inspection station are the only additional equipment required. The system is compatible with both peelable and weld seal configurations. AuraSeal is available to be incorporated into two-dimensional and thermoformable packaging formats.
Companies in this article