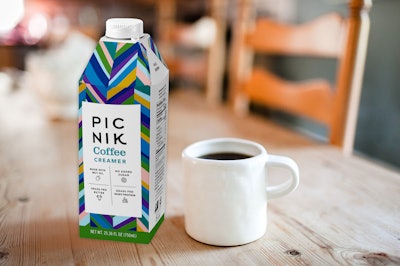 The first of its kind, the creamer is the newest addition to Picnik's line of products made with the highest-quality ingredients. A blend of grass-fed butter, whey protein sourced from New Zealand, and Medium Chain Triglycerides (100% derived from coconuts) provide benefits of healthy fats and sustained energy without the usual crash that comes with a regular cup of coffee. The product is suitable for mixing with hot or cold beverages.
"Our butter coffee creamer was created with our consumers in mind," says Megan Lavorato, Director of Operations at Picnik. "We wanted to blend the highest quality with the best taste for optimal experiences. This extends to having differentiated packaging for our differentiated product."
The combidome package from Sig combines the innovative features of a carton pack with the best characteristics of a bottle. The single-action screw cap, known as the domeTwist, is positioned at the center of the package's top, allowing easy access to the product. Altogether, the carton pack works to ensure ease of handling, smooth pouring, and convenience for consumers.