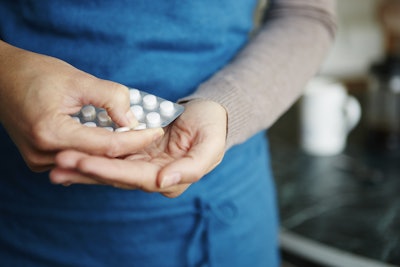 The increasing use of blister packaging in the U.S. pharmaceutical market continues to evolve, but for supporters of this packaging type, there's encouraging news from a new study from Cleveland-based research firm The Freedonia Group, entitled, Pharmaceutical Packaging Market in the US, 12th Edition.
Published in June 2017, Freedonia forecasts demand for pharmaceutical blister packaging will expand 6.5% per year, topping $4.4 billion in 2021, which it says represents 12.9 billion units.
Single-dose packaging of solid oral prescription drugs will continue to account for the largest usage of this pack style, says Freedonia, "whether dispensed directly to patients, tested in clinical trials, distributed as physicians' samples or administered in hospitals. Blister packs are also widely employed as high-visibility containers for over-the-counter (OTC) tablets, caplets, and capsules sold in quantities of 50 or fewer."
Speaking of the OTC drug packaging market, Freedonia acknowledges switches of previously prescription-only drugs to nonprescription distribution as an important driver of blister packaging. As an example, Freedonia points to Xyzal (levocetirizine dihydrochloride), an allergy treatment that received FDA approval for OTC sale in January 2017. The OTC version of this medication is sold in a 35-tablet compartment blister pack.
Freedonia cites the following factors that it believes will spur growth for pharmaceutical blister packaging:
• Ongoing improvements in materials and design capabilities
• Advantages related to patient drug adherence, prevention of institutional drug distribution errors, barrier protection, child resistance, and security
• Advances in processing and filling equipment
• Accelerating growth in oral medication demand from the introduction of new chronic care medicines and the expansion of prescription drug coverage
"Pharmaceutical Packaging Market in the US, 12th Edition" is available for $5500 from The Freedonia Group. For further details contact Corinne Gangloff by phone 440/684.9600 or email [email protected].
Companies in this article