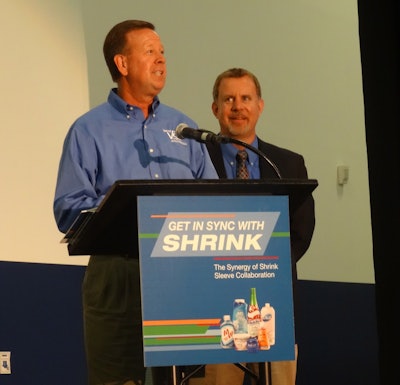 Verst Group Logistics, a third-party logistics company and contract packaging services provider, played host to more than 200 attendees of the AWA Sleeve Label Conference in late April, during a tour of its facilities in Hebron, KY. Treating guests to lunch and a guided tour, Verst highlighted its extensive shrink-labeling capabilities, which now include high-elasticity stretch-sleeve application and roll-sleeve technology.
Company President and CEO Paul Verst, along with Vice President of Packaging Will Schretzman opened the event, sharing with attendees the story of how the company's contract packaging services—established in 2000—have rapidly grown to encompass a range of services, including all types of labeling, assembly, bundling, fulfillment, and storage, in the 402,000-sq-ft Hebron facility.
The comprehensive tour of Verst's shrink-sleeve services included 13 key stops and 14 production lines, with each area sponsored by one of Verst's partners/suppliers. Among the stops were the company's tech center, quality lab, tooling and maintenance area, and climate-controlled production area. Labeling lines are equipped to accommodate several industry categories, including laundry, food, wine and spirits, beverages, and personal care applications, and package types that include cups, caps, high-density polyethylene containers, and PET and glass bottles.
The tour guide for one of the many groups guided through the plant explained to guests that with the rapid growth in the yogurt category, Verst has installed two dedicated, fully automatic cup decorating lines to handle the product.
Verst also showcased its newest machines: the HC-Series high-speed stretch and shrink-sleeve labeler from PDC Europe, and the Rollsleeve labeler from Sidel. According to Schretzman, Verst is the first contract decorator in the U.S. operating the HC-Series and is the test site for the new Rollsleeve technology, a two-in-one solution that switches from shrink-sleeve labels for shaped containers and classic hot-melt applications.
Companies in this article