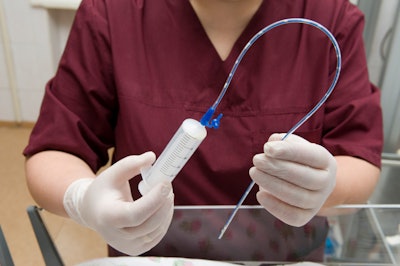 According to a new market report published by Transparency Market Research, "Enteral Feeding Devices Market (Enteral Feeding Tubes, Enteral Feeding Pumps, Administration Reservoir, Giving Sets and Enteral Syringes)—Global Industry Analysis, Size, Share, Growth, Trends and Forecast, 2013-2019," the global enteral feeding devices market was valued at $USD 2.0 billion in 2012 and is estimated to reach a market worth of $USD 3.1 billion in 2019, growing at a Compound Annual Growth Rate (CAGR) of 6.2% from 2013 to 2019.
Enteral feeding devices play an important role in providing nutrition or medication to patients who cannot swallow due to episodic acute and chronic illnesses such as malnutrition, cancer, and diabetes.
Increasing patient population coupled with rising awareness of home enteral therapy and rapid technological developments in enteral devices have accentuated the growth of the enteral feeding devices market globally. Increasing cases of chronic conditions such as diabetes, cancer, gastrointestinal disorder, AIDS, and malnutrition that requires feeding through enteral devices drives the growth of this market globally.
Market growth also is attributable to new product development by key market players that provide cost-effective alternatives and improved safety level to patients. For instance, in 2012, Applied Medical Technology, Inc. launched G-JET Low Profile Gastric Jejunal Enteral Tube that reduces clogging and increases safety of the patients. Thus, enteral feeding devices are witnessing fast adoption by patients, to achieve an effective and safe feeding process and cut down medical costs and save time.
An enteral nutrition device is a segment of the overall clinical nutrition devices market. Enteral devices deliver nutrients through a tube or a pump if a patient cannot swallow. The market for enteral feeding devices is segmented into product types and by stages (age groups). The global enteral feeding devices market by product type is further segmented as enteral feeding tubes, enteral feeding pumps, administration reservoir, giving sets, and enteral syringes. Stages (age groups) are also classified as pediatric and adult.
Europe accounted for the largest market share of over 38.5% in 2012 and is expected to dominate the market during the forecast period. Increasing geriatric populations that are more prone to diseases such as trauma, stroke, and organ system failure that require enteral feeding devices represent a major driving factor for the growth of enteral feeding devices market in Europe.
Additionally, development of new technologies and increasing preference of home-based enteral therapy prove to be a stimulus for market growth in Europe.
North America contributed the second-largest share (35.1%) of the total market in 2012. Increasing need of reconstructive surgeries and radiotherapy procedures, which require enteral feeding devices is one of the key factors driving growth in North America.
The Asia-Pacific region is expected to grow at the highest CAGR of 7.3% from 2013 to 2019, due to rise in preterm birth cases and changing lifestyles. Also, a large patient pool suffering from diabetes, malnutrition, stroke, and gastrointestinal diseases, which demands feeding through enteral devices, will accentuate the uptake of enteral feeding devices in this region.
The enteral feeding devices market is presently witnessing intense competition among the key market players to gain a significant market share. Manufacturers are introducing cost-effective, easy to use, and innovative enteral feeding products to attract more enteral feeding devices users. The global enteral feeding devices market includes major companies including Covidien plc, Kimberly Clark, Fresenius Kabi AG, Vygon SA, and CORPAK Corp.
Browse Global Enteral Feeding Devices Market Report with a full Table of Concents here.
Transparency Market Research is a global market intelligence company, providing global business information reports and services.