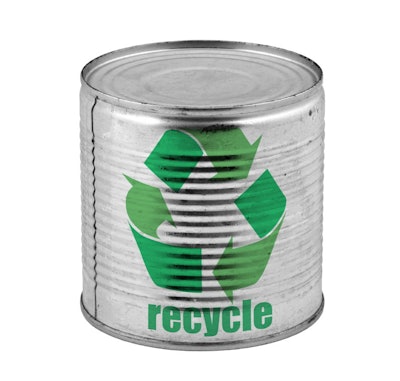 More than 1 billion tons of steel have been recycled by the North American steel industry since 1988, according to the Steel Recycling Institute (SRI), a business unit of the American Iron and Steel Institute (AISI). SRI marks its 25th anniversary this year with this milestone achievement, and with the release of its 2012 steel recycling rates.
For 2012, the overall recycling rate was 88% with nearly 84 million tons of steel recycled. This included more than 1.3 million tons of tinplate steel—the equivalent of 21 billion steel cans, which were recycled at a rate of 72%, the highest among packaging materials. Other categories include automotive scrap (16.3 million tons) and appliance steel (2.7 million tons).
According to SRI, the steel industry's recycling accomplishments are also at the core of other environmental advances by the North American steel industry. Since 1990, the steel industry has improved its energy efficiency per ton by 27% and has decreased its CO2 emissions per ton by 33%.
"The steel industry's internationally recognized energy efficiency, coupled with the recycling rate that is the highest of any material, proves our commitment to sustainability and resource conservation," says Thomas J. Gibson, President and CEO of AISI. "For 25 years, steel's recycling successes have been spearheaded by the SRI, and we look forward to another quarter century, where steel leads social, economic, and environmental advances."