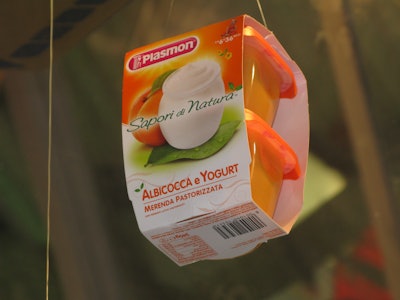 I initially went to the RPC Superfos booth on a tip from a fellow IPPO member (International Packaging Press Organization) to see the SuperLock concept (more on that later). But while there I was introduced to Massimo Zonca, whose title at Heinz Italia is R&D manager, Packaging Europe & Global Projects, Infant & Nutrition. He was kind enough to describe in some detail an innovative container for a Heinz brand of baby food called Plasmon, which is produced in Italy.
Shown here, the package is the culmination of a $7 million investment in plant and equipment at the Heinz Italia plant in Latina, not far from Rome. Included in the investment is a Bosch aseptic thermoform/fill/seal system, a Bosch paperboard carrier applicator that does two- and four-count packs, and a Bosch case packer. The Latina facility has room for a second Bosch line, says Zonca.
RPC Cobelplast provides the six-layer coextruded sheet from which the containers are formed. Excluding tie layers, it's a PP/EVOH/PP construction. Filling is done 24 containers per cycle, and the Bosch machine cycles 25 times/min. The clear barrier lidding material applied by the Bosch machine, supplied by Amcor , is basically a polyester/SiOX/PP construction.
The container's snap-on overcap is injection-molded PP with a brand oriented label applied to it. The new packages hit store shelves in Italy and the UK in October 2011 in 100- and 120-g servings. The package (including snap-on lid) weighs 8 g. It was developed in Heinz's Italian R&D center, but the firm is readying the container for use around the world. The paperboard carriers take three formats: two containers stacked side-by side, two containers stacked one atop the other (the format shown here), or a four-pack.
According to Zonca, two drivers moved this package forward. First, as an alternative to glass, the plastic package won't break. Second, it offers more convenience in terms of reclosure and portability. Shelf life is 12 months, but extending that shelf life is being investigated now, says Zonca. The use of an oxygen scavenger is one possibility, a strategy used by Heinz in its award-winning Dip & Squeeze package.
LCA, says Massimo, was analyzed by DNV (Det Norske Veritas), and it was determined that from raw material to shipment from the Latina plant, this package has a carbon footprint half that of the glass container it is replacing. A lot of this is due to savings in shipping costs since roll-stock for a given number of containers occupies a fraction of the space and weight that glass containers do.
Now back to RPC Superfos's SuperLock. Nut marketer Murano S.p.A., located near Naples in a town called Pomigliano d'Arco, is using the new concept for 200-g cups of nuts, including the peanuts shown here. Like the Plasmon package, this PP container hit store shelves late last year, appearing in both Murano's own-brand Fatina as well as various private-label formats.
The breakthrough that SuperLock represents is a function of its in-mold labeling. RPC is being a bit vague about the precise material spec, but Birgitte Martens of Superfos describes it as a PP Copolymer that gives the injection-molded PP container gas barrier properties that PP is not ordinarily known for. Worth pointing out is that the container shown here has two separate labels, one that wraps around the sidewalls and one that goes on the bottom of the cup. Both are applied in-mold.
RPC receives flat PP film from Verstraetehttp://www.verstraete.be and prints it offset in 6 colors. In a second operation, the printed film is cut into master sheets each containing dozens of in-mold labels. These sheets are stacked and fed into a cutting system that spits out stacks of individual labels that can then be fed into an injection molding machine for in-mold application.
According to Martens, it's essential that there be absolutely no gaps in label coverage of the cup because oxygen would be free to pass through any such gap and greatly shorten shelf life. A sophisticated vision system helps ensure that any cup with an imperfectly applied label is ejected.
A custom-built system from Mondini is used to fill nuts into the preformed containers, backflush the containers with nitrogen gas, heat-seal a clear flexible film to the cups, and apply the elegant twist-lock reclosable overcap. The gas-barrier flexible film lidding material, also supplied by RPC, is PP/EVOH/PP.