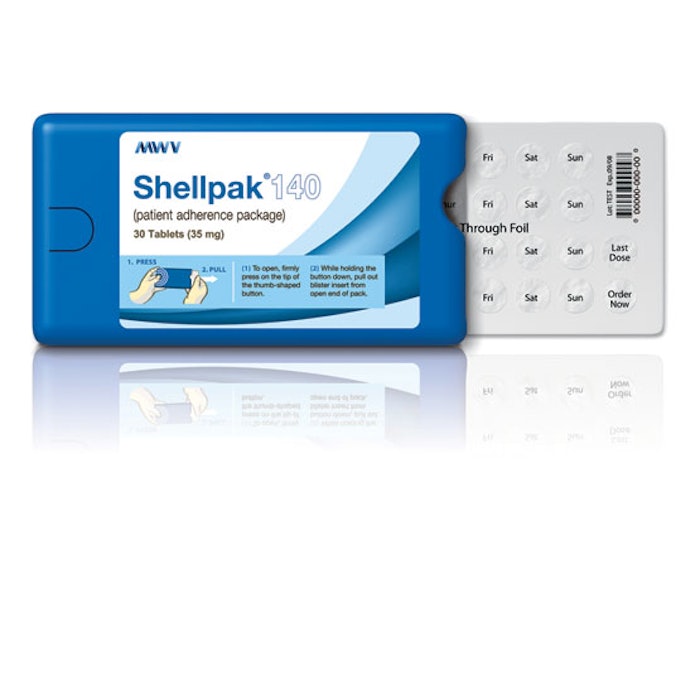 "Calendar blister packaging (CBP) of medication prescribed for daily, self-administered, long-term use was associated with modest improvement in prescription refill adherence and persistence." That was the conclusion of a study to be published in Clinical Therapeutics and discussed in a June 16 teleconference.
The original dispensing data for the study represented 3.1 million individuals filling prescriptions for the angiotensin-converting enzyme inhibitors (ACEIs) lisinopril or enalapril. The study population came from Walmart pharmacies in U.S. states and Puerto Rico between Dec. 1, 2006 and July 31, 2009. The report, "A Pharmacoepidemiologic Analysis of the Impact of Calendar Packaging on Adherence to Self-Administered Medications for Long-Term Use" noted the following:
"Our objective was to investigate the effect of CBP on prescription refill behavior in actual community practice for daily, self-administered oral medications prescribed for chronic medical conditions, compared with traditional vials. To this end, we used retrospective pharmacy dispensing data to assess the effect of CBP on prescription refill frequency and timeliness (adherence) and duration (persistence)."
The report explained, "An adherence strategy of even small effect size that is broadly implemented on a population level could significantly leverage therapeutic effect and provide substantial cumulative public health benefit," according to the report's conclusions. "Clinical benefit, or harm, associated with use of CBP should be investigated. Usability assessments of CBP in patient subgroups may provide insight about differential impact on adherence and persistence."
During the teleconference it was reported that the New England Healthcare Institute estimated the current cost of drug-related mobility, including poor adherence, to be as much as $300 billion annually in avoidable medical spending. Taking part in the teleconference were the following professionals:
• J. Lyle Bootman, PhD, ScD, dean and professor, University of Arizona College of Pharmacy
• Barbara Zedler, MD, clinical researcher, Venebio; co-author of Manuscript II • Lenn Murrelle, PhD, principal founder, Venebio; co-author of Manuscript II
• Ted Lithgow, PhD, chief science officer healthcare, MWV. MWV Healthcare funded the survey, supplying its Shellpak® CBP (shown above) for the lisinopril used in the survey. Clinical Therapeutics reports, "The sponsor had no role in the design or conduct of the study or in the preparation, review, or approval of the manuscript."
Packaging specifics
The study provided the following packaging perspective:
"Innovative pharmaceutical packaging has the potential to substantially leverage the therapeutic benefit of self-administered medications by reducing nonadherence, but it has not been well studied. A 2011 systematic review of published randomized, controlled trials concluded that calendar packaging, especially in combination with education and other behavioral strategies, may improve medication adherence. Calendar packaging incorporates a simple day or date feature to prompt the patient to maintain the prescribed dosing schedule. CBP is unit-of-use (generally 30 days) packaging in which each tablet's blister is labeled with the day or date, providing a visual record of when the patient last took the medicine.
"CBP has been used in the U.S. since the 1960s for oral contraceptives, which have been taken by approximately 80 percent of U.S. women born since 1945. More recently, CBP has been adopted for female hormone replacement therapy, but generally not for other classes of medications dosed daily for long-term use." More information is available.