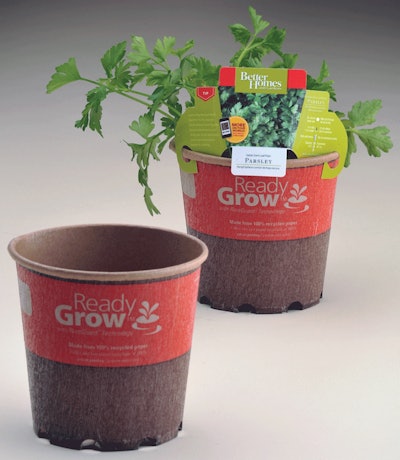 Metrolina Greenhouses, Huntersville, NC, is now using biodegradable ReadyGrow™ planters from
Sonoco
(
www.sonoco.com
) for its spring herbs. The 1-qt planters were released in early March.
Made from 100% recycled paperboard produced in Sonoco's paper mills, ReadyGrow biodegradable planters are conveyable and sustainable in a commercial greenhouse environment and biodegrade in soil within 180 days of planting, according to the supplier. Sonoco's patent-pending design is said to be user-friendly and allows consumers to plant the entire container in the ground, eliminating mess and reducing the amount of plastic being sent to landfills.
Abe VanWingerden, president of Metrolina Greenhouses says his company is excited to be the first to market with this new biodegradable planter. "Today's consumers are busier than ever, and with Sonoco's biodegradable pots, they are literally able to plant it and forget it," he says. "Growing our spring herbs in ReadyGrow pots not only makes our product more sustainable, but also reduces our total carbon footprint by leveraging a local packaging provider. Sonoco manufactures these pots in its Hartsville, South Carolina, plant, just 100 miles away from our greenhouse. Ultimately, it's a win for our customers, our environment, and our supply chain."

According to Sonoco, the conveyable ReadyGrow planter will not tear apart when watered or lifted from greenhouse trays by the retailer, and consumers gain a product that is both environmentally friendly and easy to plant. The planters are porous, allowing oxygen to pass through the container to the roots. Sonoco's RootGuard™ proprietary coating technology is added to ensure the pot withstands greenhouse watering and maintains good water absorption while in the soil. Once planted, the coating breaks down, allowing the plant's roots to penetrate through the pot and branch out into the soil bed to absorb water and nutrients, minimizing transplant shock.