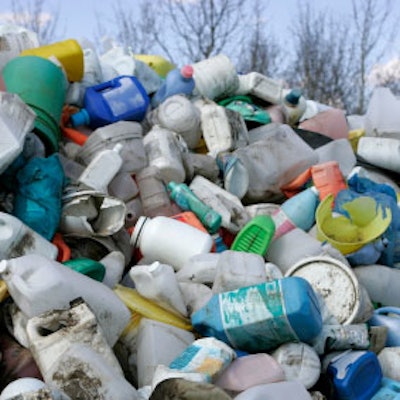 Post-consumer nonbottle rigid plastics recycling is swiftly gaining ground in the U.S. According to a new report from the American Chemistry Council, nearly 480 million pounds of post-consumer rigid plastics were collected for recycling nationwide in 2009—an increase of nearly 33% from 2008 and 47% since 2007.
The category "nonbottle rigid plastics" includes nondurable items (or packaging), such as high-density polyethylene tubs, polypropylene cups, and similar food containers, and durable items, such as pallets, crates, carts, 5-gal buckets, and electronic housings. Notes the report, a growing number of reclaimers have begun processing nonbottle HDPE and PP containers to produce resin for new end products. And the number of communities collecting mixed rigid plastics also has grown in response to demand.
Over 63% of households in California now have access to recycling of nonbottle rigid plastics, and recycling programs across the country are being expanded to collect rigid containers. For example, New York City, Philadelphia, and more than 60 communities in Connecticut have recently announced expansion plans. Most municipalities that collect nonbottle rigid plastics accept household containers, but the report found that a growing number also are adding bulkier rigid plastics, such as toys, lawn furniture, laundry baskets, etc.
"Recycling these valuable plastics not only keeps them out of landfills but also helps close the loop, as these post-consumer materials go on to have a second life as useful products," says Steve Russell, vice president of plastics for the American Chemistry Council.
"This is the third year in a row that we've seen growth in this sector," he adds, "and these results confirm for us the value of collaborative approaches to increase recycling in communities across America."
The report, "2009 National Post Consumer Report on Non-Bottle Rigid Plastics Recycling," was prepared by Moore Recycling Associates, Inc. and is based on data supplied by 60 post-consumer plastic processors, end users, and exporters across the U.S.