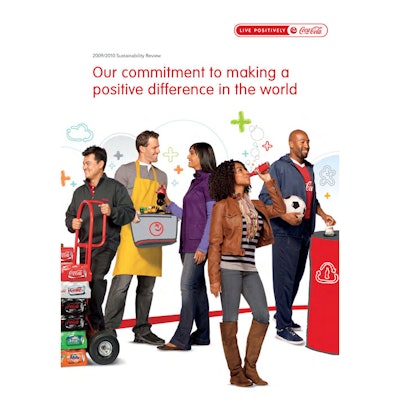 The Coca-Cola Company has published its seventh system-wide sustainability review, entitled Our Commitment to Making a Positive Difference in the World. The review releases 25 sustainability goals across seven focus areas for the company and its bottling partners and reports on the company's sustainability strategy and progress.
The review profiles the company's and its more than 300 bottling partners' efforts to grow business in economically, environmentally, and socially sustainable ways, Coca-Cola relates. The report was created using stakeholder feedback and the disclosure requirements of the Global Reporting Initiative, the United Nations Global Compact, and the CEO Water Mandate.The review includes summaries of company and bottling partner performance and progress across seven core areas key to Coca-Cola's business sustainability: Beverage Benefits; Active Healthy Living; Community; Energy Efficiency and Climate Protection; Sustainable Packaging; Water Stewardship; and Workplace.
Highlights from the 2009/2010 sustainability review on the topic of Sustainable Packaging include the following:
• Delivered 2.5 billion PlantBottle® packaging bottles in nine major markets while working to advance the use of PlantBottle packaging in every bottle sold by 2020.
• Avoided the use of approximately 85,000 metric tons of primary packaging through system-wide packaging efficiency efforts, resulting in estimated cost savings of more than $100 million.
• Supported the direct recovery of 36% of the bottles and cans placed into the market by the Coca-Cola system
In the area of Energy Efficiency and Climate Protection:
• Since 2004, improved energy use efficiency 13% and reduced absolute emissions from manufacturing operations in developed countries by 8%.
• Advanced energy efficiency of cooling equipment with installation of some 3.1 million intelligent energy management devices to date, reducing energy consumption by monitoring energy use on refrigeration units.
• Placed more than 127,000 HFC-free refrigeration systems, bringing total placement to more than 240,000 units. Working to phase out the use of HFCs in all new cold drink equipment as of 2015.
Water Stewardship:
• Achieved a 13% improvement in water use efficiency since 2004, using an average of 2.36 liters of water to make one liter of beverage.
• Announced expansion of global partnership with USAID with additional joint investment of $12.7 million focused on watershed management, water supply and sanitation, hygiene promotion, and productive water use.
• Committed an additional $10 million to address water-related challenges in communities across Eastern Europe and Eurasia with UNDP.

• Since 2005, engaged in more than 250 community water partnership projects in more than 70 countries, replenishing the equivalent of 22% of the water used in the Coca-Cola system's finished beverages. This marks positive progress toward goal to replenish to nature and communities an amount of water equivalent to what is used in all finished beverages by 2020.
• Launched system-wide water resource sustainability standard requiring each of the more than 900 bottling plants to evaluate the sustainability of the water resources used to produce beverages and develop a source water protection plan by 2013.
To learn more about The Coca-Cola Co.'s efforts at sustainable packaging, attend the Sustainable Packaging Symposium 2011: Advancing the Greener Supply Chain. Coca-Cola's Scott Vitters, general manager, PlantBottle Packaging Platform, will be speaking at the event.