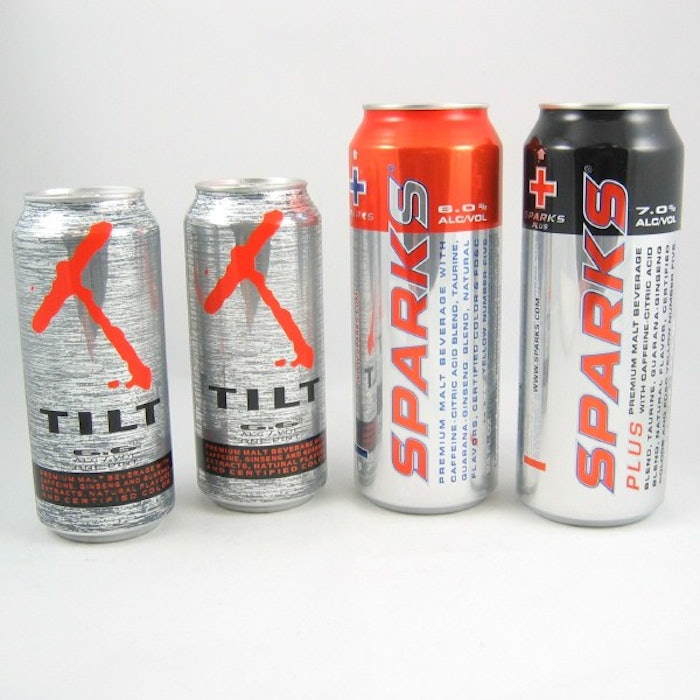 On Feb. 8, lawyers for the nonprofit Center for Science in the Public Interest (www.cspinet.org) served notice to Anheuser-Busch and Miller Brewing of the CSPI's intent to sue the companies over a new generation of caffeinated alcoholic drinks.
Drinks such as Anheuser-Busch's Bud Extra and Tilt, and Miller's Sparks contain more alcohol than beer, as well as stimulant additives that are not officially approved (by the FDA) for use in alcoholic drinks, according to the CSPI. These additives include caffeine, taurine, ginseng, or guarana. The letters can be found at the CSPI Web site.

CSPI's involvement along with governmental legal action prompted Anheuser-Busch to remove a similar product, Spykes, from the marketplace. Spykes came packaged in fingernail-polish-sized bottles with an alcohol concentration of 12% and with the stimulants caffeine, ginseng, and guarana.

"Short of decorating these cans with Hannah Montana or Spiderman, it's hard to see how you could do a better job of marketing 'alcospeed' to young people than Anheuser-Busch and Miller are doing," said CSPI litigation director Steve Gardner in the CSPI press release. "The cans are virtually indistinguishable from several non-alcoholic energy drinks that are heavily marketed to young people. They have a sugary taste, and colors that make them look more like Mountain Dew or Orange Crush than regular beer. It's a recipe for disaster, and the companies should be held accountable."

In late March, near the end of that 30-day deadline, we spoke with George Hacker, the director of the CSPI's alcohol policies project. At the time of the interview, the CSPI had not heard from either brewer.
UPDATE: On April 4, Hacker indicated that the CSPI had heard from one of the two brewers, though he would not disclose which one nor could he provide any further details. He said that the CSPI is preparing to proceed with a lawsuit against the other brewer.

Package problems

CSPI notes serious problems inherent in the package format and package design. For one thing, they are packaged in large, 16-oz cans.
According to Hacker, a single-serve can of these products contains up to 8% or more alcohol by volume—more than two shots of vodka. This potency and can size encourage the excessive consumption of alcohol, Hacker says.

In the case of Miller's Sparks, the line includes a 24-oz can size.

Another problem, according to Hacker, is the appeal to underage drinkers, done through the marketing of the products - via advertising and product Web sites - and through the package design.

"They are attractively packaged, they are available at convenience stores, and they are very accessible to underage people," Hacker explains, noting that energy drinks like Red Bull have become popular with young people who may drink them mixed with alcohol.

As far as the shelf impact goes, Hacker says, "Shelf appeal is a very important aspect of marketing and packaging. By catching the attention of consumers at the point of purchase, as well as by mimicking familiar popular beverage products, they get people to put their eyes and then their hands on these products."

He also notes the youth-oriented design inherent in the category: "Many of these products use silver and offbeat and fluorescent colors, some of which resemble the nonalcoholic energy drinks." One example of that confusing overlap is Rockstar energy drink, according to Hacker.

Hacker says the A-B and Miller products were specifically targeted by the CSPI because they were the biggest producers of these products in the U.S.
The CSPI is asking for "a complete removal of these products from the marketplace and for damages," Hacker says.

'A tainted category'

Suspecting Hacker's answer, we asked the question anyway: Is there any negotiation point using smaller size containers and changes in design?

"We think this whole category is sufficiently tainted that this 'toxic brew' ought not be on shelves at all," he responded. "It's not appropriate in any package or any design."

Hacker notes a difference between these products and, for example, Red Bull that is mixed by consumers or bartenders with alcohol. "We in no way sanction the sale of Red Bull and vodka or rum and Coke, because we don't think those are any safer than these prepackaged forms," Hacker says. "One essential difference is that Anheuser-Busch and Miller have made this [alcohol and energy drink] combination much more accessible, and have made it cheaper for all drinkers, including underage drinkers."

Yet, that isn't the only problem, according to Hacker. "Underage drinking is only one of many serious issues relating to these products," he explains. "The basis for our legal complaint is that the energy-containing components have not been official approved as Generally Recognized As Safe (GRAS) for use in alcoholic beverages. These products are adulterated under FDA law and are therefore misbranded. In fact, those on the nutrition side of CSPI, and others, are looking at the high-caffeine content of some energy drinks and the potential harm that may cause."

Another related product category that has the unwanted attention of the CSPI is that of "alcopops" –sweet-tasting alcoholic beverages. In regards to the packaging of these products, Hacker says they're similarly packaged in containers decorated in bright, flashy colors that can draw the inappropriate attention of underage drinkers.

Hacker's advice to marketers and package designers involved in these beverage categories?
"They should get away from some of these neon colors and design features that 'scream' youth," he emphasizes. "Also, rethink the size of containers. Red Bull is in a [8.3-oz standard] can, roughly half the size of these 16 ouncers."
Hacker pointed to Foster's as a good example of a brand owner's response to this trend. The Australian brewer announced in late March that it would immediately remove energy drinks containing higher levels of alcohol brands from its portfolio of goods sold in Australia due to concerns about irresponsible drinking. The company said that it had voluntarily decided to cease production of its alcohol beverages that contain "energy" additives such as caffeine and taurine, as well as any canned or bottled beverage containing more than a 7% alcohol.

"We have listened to stakeholder concern and we are taking these steps proactively and voluntarily", Managing Director of Foster's Australia, Asia & Pacific, Jamie Odell, said.

Note: In February, Anheuser-Busch announced that it had been subpoenaed by the attorney generals of several states regarding Tilt and Bud Extra.