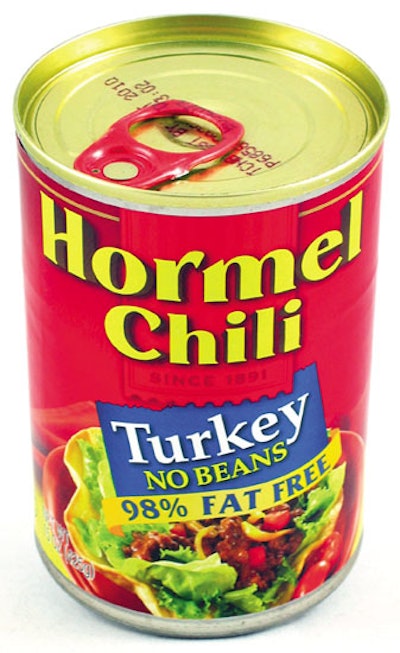 The ends and consumer-convenient tabs, as well as the cans, are supplied by Silgan Containers Corp. This is the first brand in the chili category (and one of only a few food products across the board) to use colored pull-tabs to create product differentiation on the store shelves.
Hormel Chili product manager Marty Wolesky adds, "We felt that the red tab really brought attention to the can end. We stated the clear objective of being ready for chili season, and we worked closely with Silgan to ensure a smooth and timely conversion with our production facilities."
Redesigned paper labels for the new chili can packaging retain the familiar Hormel® brand red color. But no details regarding the label structure, graphics, or printing process were made available.
The new chili packaging began to hit store shelves in Autumn 2007, and consumer feedback has been positive. In total, more than 14 Hormel® Chili SKU's, including both bean and no-bean varieties, incorporate the new colored-tab, easy-open can ends and new labels. The average retail price of the 15-oz canned chili products is $1.49-$2.49, depending on variety.
Companies in this article