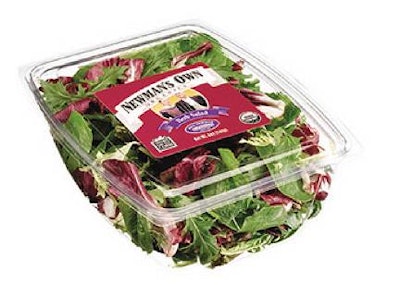 Environmental and business experts discussed renewable-resourced based packaging during a Webcast hosted by Packaging World held January 6, 2006. The session, Greening Your Package - Making the Offer Right and Renewable For You and Your Customers, was moderated by Jim George, Packaging World Marketing & Design Editor, and sponsored by NatureWorks LLC.
It was stated that the manufacturing of renewable materials like PLA uses less energy and produces reduced greenhouse gas emissions than conventional petroleum-based plastics. For companies interested in sustainable packaging, the following advice was offered:
• Identify technical and quality requirements.
• Evaluate packaging options.
• Assess the impact of any packaging change.
• Partner with suppliers.
The session also chronicled the experience of Newman's Own use of PLA as a testimonial of one way to create a buzz with consumers through packaging.
Positive feedback
One speaker was Joe Sandro, director of organics, FoodSource, a C.H. Robinson Co., a private label manufacturer that packages the Newman's Own line of organic salads that launched in 2004 in PLA clamshell containers.
According to Sandro, the nature-based PLA packaging meshed neatly with the company's organic message. "We were building our program from the ground up, and looked at PLA as a way to differentiate ourselves from the competition."
Sandro says the packaging helped the success of the line right from the launch. Besides good sales, the line generated five to 20 calls and e-mails a week after it was launched.
"Overall, the feedback we received was fantastic," he said. "Consumers loved the fact the packaging doesn't rely on a foreign oil source or petroleum. We've had nothing but positive feedback from consumers."
Surprisingly, says Sandro, there wasn't any negative feedback. In fact, Sandro says the closest they came to any negativity was consumers' asking, "'Can this be true?' They couldn't believe that the packaging was made from 100 percent corn. They thought we were tricking them somehow, and they wanted to find out more about the technology."
A link to the full Webcast can be reached by clicking here.
Companies in this article