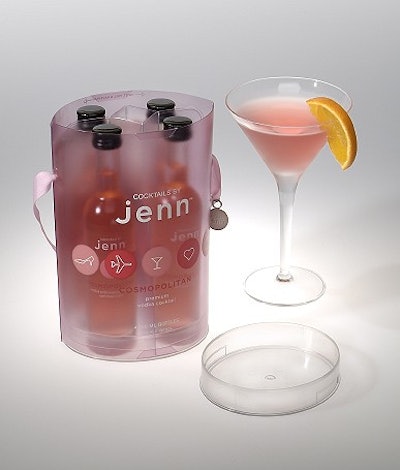 Bottles are supplied by Saver Glass, Inc. with aluminum closures from Alcan Packaging of California (formerly known as Pechiney Cork & Seal of California). The bottles bear frosty clear, gravure-printed heat-transfer labels developed by Multi-Color Corp. in partnership with glass decorator G-3 Enterprises. Multi-Color's patented "frost" technology provides an acid-etch effect without the cost or environmental concerns associated with acid etching. To complement the attractive mini-bottle label design, Jenn's assigned AGI/Klearfold to create a uniquely shaped, purse-like tote that would enhance shelf presence, encourage sales, and be durable enough to hold and protect four 100-ml glass bottles.
AGI/Klearfold recommended its patent-pending "Insight" packaging system that combines printed PVC carton sleeves with injection-molded styrene acrylic copolymer top and bottom end caps that lock to die-cut tabs in the carton sleeve body. The top end caps are designed to open easily when the consumer twists the cap a quarter turn. Small die-cut apertures in the sleeve also are incorporated to secure colored ribbons that serve as tote handles for the four-packs.
Constructed for rigidity and durability, the eye-pleasing, semi-transparent, oval-shaped totes are printed with whimsical graphics depicting such things as cocktail glasses, diamond rings, cell phones, and ice cream sundaes-all particularly aimed at attracting adult female consumers. The graphics are produced using a combination of screen and flexo printing and showcase colors corresponding to each cocktail flavor-Appletini, Blue Lagoon, Cosmopolitan, and Lemon Drop.
AGI/Klearfold also custom-designed a PVC interior carton partition that separates the four glass bottles, protecting them from hitting against one another inside the four-pack during transport.
Because AGI/Klearfold already owned the oval end cap injection-molding tool, there were no additional tooling costs or production steps required to execute the packaging. This helped Jenn's Cocktail Co. meet its product launch timeline. Cocktails by Jenn were introduced in the western U.S. in the fourth quarter of 2004 and began rolling into other regions during 2005. Depending on market area, the four-packs are retail priced at approximately $14.99.
Jenn's Cocktail Co. spokesperson Diana Bader says, "The four-packs are vibrant and eye-catching, which has been a strong part of their selling power. The functionality of the packaging effectively maintains the brand essence, allowing a peek at what's inside through the transparent cylinder. These factors have continued to build excitement with the target audience."
Companies in this article