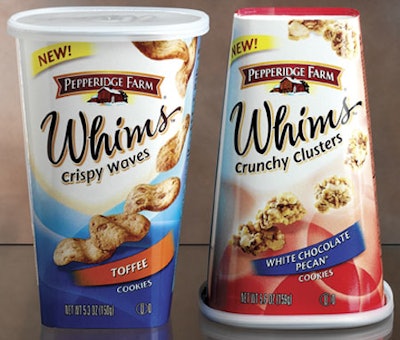 That's thanks to a tapered container that gradually widens from its base, which fits in a car cupholder, to its reclosable top. The container, membrane, and overcap are all supplied by Sonoco.
"When developing Whims cookies, we set out to provide a bit of delicious spontaneity for busy consumers," says Carol Degener, director of innovation for Norwalk, CT-based Pepperidge Farm. "The revolutionary packaging design developed by Sonoco—a new technology to the cookie market—allows Whims to meet the fast-paced lifestyle of our customers and adds tremendous impact on the retail shelf in terms of marketing and merchandising."
Sonoco's SonoWrap™ container includes an inner foil barrier layer laminated to a 15-pt SBS board reverse-printed flexo in seven colors. Sonoco manufactures the container in Hartsville, SC, then ships them nested to Pepperidge Farm's plant in Denver, PA. Sonoco injection-molds the polypropylene overcap in Canada, while the plastic/foil membrane is made in North Carolina.
The container may be displayed on its overcap, or upside-down on its base. Graphics are printed in different directions on both primary canister panels to accommodate either type of retail display.
Launched nationwide earlier this year, the canister is used for two cookie offerings: 5.3 oz of Crispy Waves snacks and 5.6 oz of Crunchy Clusters treats. The latter is a combination of cookie ingredients rolled up into bite-sized clusters. A container of the Crunchy Clusters purchased in the Chicagoland area was priced at $3.49. —Jim Butschli