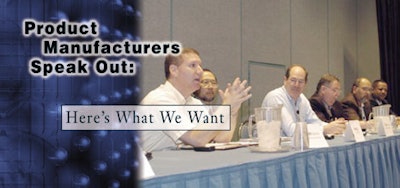 Leading U.S. product manufacturers say that contract packagers who follow these recommendations, among others, stand the best chance of winning their business in an increasingly cluttered outsourcing industry.
A roundtable of five panelists, who purchase outsourcing services, and one contract packager, shared their insights at the Packaging Services Expo in Rosemont, IL, in May. Contract Packaging Editor Jim George moderated the nearly two-hour discussion. Following are the panelists' top-line thoughts on what capabilities and qualities they look for in qualifying contract packagers and measuring performance.
Jim George: Retailers are increasingly calling the shots in package design and structure. How is that impacting what you need from a contract packager?
Len Bardfeld: We need contract sites that are fast and flexible to meet the needs of the retailers. Of course, they also need to be cost-competitive.
Hung Le: A close contact between the two companies' technical groups is essential to respond quickly to any change in package design and structure. Remember that the two main reasons for outsourcing are to save money and to improve performance. Therefore, the initial contract should be prepared carefully to protect the cost savings while retaining high-quality products.
Bruce Brandel: It might help to think in terms of guerrilla solutions. We've always aligned ourselves with quick-turn suppliers because retail is just evolving so fast.
Anthony Calhoun: Sam's Club doesn't want pallets like Costco's. At Target, it's "free," but Wal-Mart hates using the word "free." Help me to avoid making two major different packages for different retailers, but to also meet their individual needs, such as pallet widths.
George: What conditions dictate your need for a contract packager, and how do you measure a co-packer's performance?
Bardfeld: Due to some recent plant closures, J&J Consumer relies heavily on our contract packaging sites. Quality is a given. Beyond that, on-time delivery, cost, and ability to innovate are key measures.
Le: A pilot run for a new product and preparing to add manufacturing capacity are our main conditions for seeking a contract packager. To measure performance, both companies should agree on a practical audit program (with attainable expectations).
Tony Aguirre: Quality in your facility must be documented. The first thing I want to see is your procedures manual.
Calhoun: Quality is an expectation. My perception is my reality when I walk through your plant.
George: How can a contract packager effectively sell itself to your company?
Bardfeld: Proven capability is a must. The ability to formulate is a plus. If you come in and tell me you're already working with a P&G, a Unilever, you've got my attention.
Le: Prepare a white paper on the intended product or service, and then forward it to the vice presidents (manufacturing, marketing, purchasing, quality, and technical services). If there is a vendor audit program, contact the lead auditor on the main quality requirements for the product or service.
Brandel: From my perspective as a contract packager, I would recommend that you have a point when you call a consumer goods company. Know what you have to offer.
Tom Youkilis: We qualify based on a number of different key elements. Have some basis to say, "We're not from just off the street." Show that you're certified.
Aguirre: And do it briefly. We are very, very tight on time.
Calhoun: Think of creative win-win situations.
George: How important are long-term relationships for your company?
Bardfeld: Relationships are very important to us. We have a formal strategic supplier program with our key sites. It includes quarterly top-to-top meetings at the site and scorecard reviews.
Le: They are very important. The contract packager should keep up with related technology, including technical training for staff, to match those of the host company.
Youkilis: Costs are a big part of the long-term picture. Cost reduction is not us asking you to reduce margins. It's us asking, "Let's take a look at the whole picture."
Aguirre: A chief requirement that's important long-term to us is using temperature-controlled facilities that are specific to our needs. Aside from that, I want to know how you can do something different for me. You're not just a co-packer.
Calhoun: If we're going to be long-term buddies, you'll have to take some of the risk. I'll buy the labels, but you'll have to figure out how to get them on the carton.
George: Where is the biggest bottleneck in your company's delivering packaging to market?
Bardfeld: It's our own internal processes that tend to be the bottleneck.
Le: The environmental impact of recycling.
Youkilis: The bottleneck for us is in dealing with the challenges of just being a big company. There could be delays in artwork, sales, or marketing, but our ship-out date doesn't change.
Calhoun: Part of the bottleneck is an internal culture issue, as Len said. At PepsiCo, we are getting better at listening to those outside the company as cost pressures continue to hit us.
George: What three requirements at your company are the most important for co-packers to know in order to win your business?
Bardfeld: Quality, on-time delivery of product, and cost.
Le: Our three most important requirements are cost, quality, and flexibility.
Youkilis: To these I would add the "I forgot-to-tell-yous." These add up. You want to be flexible enough to fix things at the end. Cost is big; P&G is looking for constant cost improvement.
Aguirre: Proximity is a major issue for us as we are in California. We have a high need for regional contract packagers, and it is hard to find the right ones that we need on the West Coast. I would also add that we're interested in innovation that leads to cost-reduction.
Calhoun: What kinds of proprietary technology do you use? Logistics is very important. Can you come up with new ideas for us? [CP]
Companies in this article
Videos from Universal Labeling Systems, Inc.